South Korea-Japan Relations: Toward a 'New Future'?
South Korea and Japan spoke optimistically about their relationship at an important anniversary yesterday.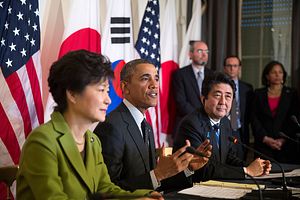 South Korean President Park Geun-hye and Japanese Prime Minister Shinzo Abe traded messages on Monday, marking the 50th anniversary of the normalization of their countries' diplomatic relations with optimism. Park and Abe attended separate functions, Park at a reception at the Japanese Embassy in South Korea and Abe at the South Korean embassy in Japan. South Korean Foreign Minister Yun Byung-se also travelled to Tokyo to mark the occasion, making his first trip to Japan since assuming office in 2013. A South Korean official, speaking to South Korea's Yonhap News Agency, noted the slow progress: "Spring has come to South Korea-Japan relations, though the ice of the river has not melted yet."
Both Park and Abe struck hopeful notes in their remarks. Park noted that the 50th anniversary of Japan-ROK relations "can provide a significant opportunity for the two countries to move toward a future." She added, "It's important to create a mood where we can put down the heavy burden of history with a view to achieving reconciliation and mutual prosperity." Abe spoke of his "heartfelt joy" that Tokyo and Seoul were holding simultaneous celebrations of the anniversary. "I am confident that our cooperation on regional and global issues, and our joint efforts to advance our international contributions will lead the way to a new future for both Japan and the ROK," Abe said. Abe did not reference historical issues in his remarks, stressing the future instead.
After his meeting with Japanese Foreign Minister Fumio Kishida, Yun told reporters that Japan and South Korea had agreed to hold a trilateral meeting between Abe, Park, and China's Premier Li Keqiang "as soon as possible." The Nikkei Asian Review said the three countries might hold the long-awaited summit as soon as fall 2015. Abe and Park would be expected to hold their first one-on-one meeting on the sidelines of the trilateral meeting.
However, Yun cautioned that South Korea and Japan still need to solve their outstanding issues before the relationship can continue to advance. Likewise, Yonhap noted that "South Korea remained cautious" about improving ties with Japan, thanks largely to lingering issues surrounded Korean women who were forced into sexual slavery during World War II. Euphemistically known as "comfort women," these women have emerged as a flashpoint that in essence symbolizes the historical issues that divide South Korea and Japan. The women and their supporters argue that they have never received a full apology and that Japan's government has not taken responsibility for their plight; critics in Japan, meanwhile , have denied or called into question their claims.
In their meeting, Yun urged a resolution to the "comfort women" issue. Yun also called on Abe to recognize historical facts when he makes his much-anticipated statement on the 70th anniversary of World War II in August. Yun also told Japanese broadcaster NHK that the South Korean government will not bring up the issue of "comfort women" again once it is "clearly resolved." With Park herself recently speaking of "considerable progress" in Japan-South Korea negotiations over the issue, that raises hopes for a final solution.
At the same time, however, the "comfort women" vowed to take matters into their own hands. Twelve victims said that they will file a suit on the issue on July 1, "unless Japan demonstrates sincere intent to make amends for its crimes during World War II before then," Yonhap News reported, citing the director of House of Sharing, which provides housing for the "comfort women" as well as hosting a "Museum of Sexual Slavery by the Japanese Military." The women plan to name Abe as a defendant, along with relatives of Emperor Hirohito and Japanese companies who used forced Korean labor during World War II. The women will seek $2 million each in damages.