Thailand's Junta Chief Warns Against Election Rush
Thai premier cautions that underlying problems need time to be solved.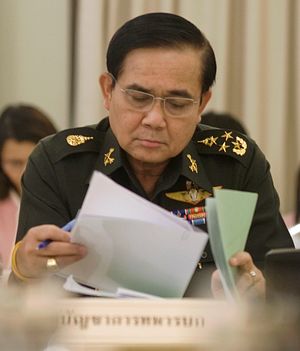 Thailand's junta chief Prayuth Chan-o-cha warned against rushing to hold fresh polls in the country in an interview earlier this week amid repeated election delays following a coup last May.
"In the past, there were very few coups that could solve political problems, because coups were followed by quick elections, sometime too soon. The rush has prevented underlining problems from being resolved," Prayuth said in a rare interview with Singapore media in Bangkok on Wednesday.
In Prayuth's first public address just over a week following the May 22 coup last year, he said that the junta had a timeframe of a year and three months to move towards elections. Yet as The Diplomat has been reporting, that deadline has been repeatedly delayed. Just last month, Deputy Prime Minister Wissanu Krea-ngam had told reporters that polls would now take place in August 2016 at the earliest to allow for a referendum to be held on a contentious new draft constitution (See: "When Will Thailand Hold its Election?").
In his Wednesday interview, Prayuth suggested that a series of key questions would need to be answered before polls would be held, including whether the next election will be peaceful, who would be in the next government and whether Thailand would be able to continue with reforms.
He also emphasized that while he was laying the foundation for a stable Thailand that would hopefully never have to encounter yet another coup, he would do so without diminishing the military's role in politics.
"I want this to be the last coup. However, the power of the army would not be reduced. This is because the army has always taken care of this country," he stressed.
Prayuth also once again dismissed lingering concerns that he wanted to extend his rule beyond the transition period, which has seen severe restrictions on civil liberties (See: "Thailand's Junta Deals Free Speech Another Blow").
"Some say I want to extend my power. This is not what I want. I want to do what I can with the time that is given to me. People should cooperate with me to make this period worthwhile instead of holding the country back," he said.