The One Prophecy Thailand's Junta Leader Wants Silenced
Prayuth hits out at a popular fortune-teller following a controversial prediction.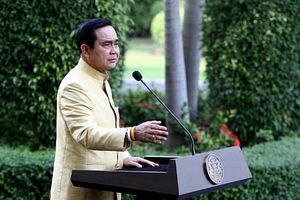 Thai junta leader and prime minister Prayuth Chan-o-cha has asked a popular fortune-teller in the country to stop reading his future after a recent prediction about the length of his term in office sparked controversy.
According to the Thai newspaper The Nation, Warin Buawiratlert, one of the Thailand's most influential astrologers who has known Prayuth for years, said over the weekend that he saw the junta chief running the country for three more years without any hostile movements or undercurrents "because the country's star is not ominous."
That prediction caused a stir when deputy government spokesman Sansern Kaewkamnerd said in response that the Prayuth administration may stick around longer than planned depending on the situation in the country.  As The Diplomat had reported previously (see here and here), the ruling junta had earlier pledged to hold polls around October 2015 but has repeatedly pushed that date back to sometime in 2016, with some observers expressing doubts about whether this might even run into 2017.
But Prayuth denied wanting to stay in power longer than necessary and said he would strictly follow a road map to restoring democracy and holding elections. He also said he had told Warin, whose advice his sought by several retired and active Thai generals, to stop making such predictions in the future.
"I don't know. (You) should ask him," Prayuth told reporters when asked about the prediction according to The Bangkok Post. "I have my own roadmap and I've sent a signal to fortune teller Warin that he should not make any more prediction[s]. And I hope he won't."
"I have no intention to hold on to power," he added.
Prayuth's spiritual beliefs have been the subject of media speculation since he took office last May after a coup. For instance, last September, he told an audience that he had doused himself from head to toe in holy water to ward off enemy curses. He also defended his decision then to consult fortune-tellers, although he also added that the utility of their advice should be considered on a case-by-case basis.
"There's no harm in listening to fortune-tellers," Prayuth told a group of reporters last year. "Fortune-telling is an art. But if a fortune-teller tells a person that they will be rich and then stay in bed all day, then what is the use?" he said.