Thailand's Junta Deals Free Speech Another Blow
The military bans an event on the country's controversial lese majeste law.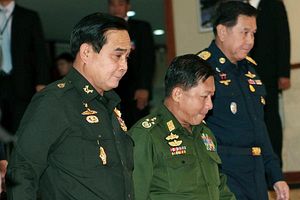 On Monday, media sources reported that Thailand's junta had banned the Foreign Correspondents' Club of Thailand (FCCT) from holding a debate on the controversial lese majeste law.
The FCCT was planning on hosting a panel discussion on Wednesday evening on the law, which has long been criticized for being used to target political enemies of the state. According to Section 112 of Thailand's criminal code, anyone convicted of defaming, insulting or threatening the king, queen, heir or regent faces up to 15 years in prison on each count – one of the strictest punishments in the world for such an offence.
In a statement following the incident, the FCCT said it had initially received a letter last week from the police asking to cancel the event because it would sow disunity in Thai society and encourage people to break the law. Though the FCCT had declined the initial request, the group was subsequently told that soldiers would blockade the building where the event was being held on June 17 if it went ahead.
"The FCCT has now been told that if the event goes ahead, the military will come and seal off access to the Maneeya Centre, where the club is located. This is an unacceptable imposition on the many other tenants in the building, and it is with great regret that we have decided to cancel" the statement said.
This is the second time this month that the FCCT has faced such restrictions from the government. Earlier this month, the junta blocked a panel discussion on human rights in post-coup Thailand featuring Thai Lawyers for Human Rights (TLHR) scheduled to take place at the same venue. TLHR members reportedly could only distribute copies of their report to journalists who had gathered at the event with undercover security officials around them.
According to TLHR in a statement issued after the incident, 71 public events have been subjected to similar censorship and cancellation requests by the government since the coup last May. The group alleged that this is part of a "consistent pattern of serious human rights violations" perpetrated by the ruling junta. This includes the harassment of lawyers, human rights defenders and journalists, tortures, internationally unlawful trials of civilians by military courts, and the consistent violation of freedoms of assembly, association, opinion and expression.
The number of lese majeste prosecutions has also increased dramatically since the coup. According to iLaw, a rights group that monitors legal cases in Thailand, royal defamation cases were underway for just two people before the coup but that number has now risen to at least 46. More than half of them have been denied bail while they await trial.