Under Fire: NGOs Face Increasing Hostility
Long accustomed to occupying the moral high ground, NGOs are coming in for increasing criticism.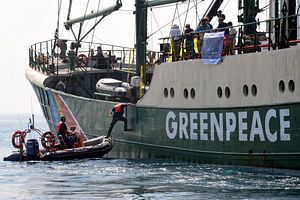 In recent decades the ubiquitous NGO has taken up the banner for charities and worthy causes. From the environment and human rights to health, education and animal welfare, nongovernment organizations have championed the dispossessed, winning legions of fans.
But in recent years pockets of NGO Land – as some call it – have lost their shine.
Too militant, too strident, and too sanctimonious are among common complaints leveled at NGOs – whether in Australia or in Southeast Asia and beyond — amid allegations of blatant lying and a victory at any cost mentality.
It was a point noted by academic and veteran correspondent Karl Wilson, from the Asian Centre for Journalism in The Philippines, who spent time working with a prominent human rights group.
He said they were not shy on self-promotion or in molding headline grabbing causes with fundraising potential.
"A toothless bloke fishing in Indonesia whose livelihood is threatened by global warming is not as attractive as a bikini clad chick on the Great Barrier Reef, snorkeling," he said. "Working with them showed me how the other side works and how agendas are pushed and pushed hard."
Arbiters of Bad Behavior
Greenpeace, which has annual revenue of around $350 million, has come under sustained attack for the highly questionable methods it has employed.
In Australia, it was caught using photographs from a devastated reef in The Philippines as part of its campaign to have the Great Barrier Reef listed as endangered by UNESCO at next week's annual meeting of the World Heritage Committee in Bonn.
Later, the environmental campaigners were accused of running a massive disinformation campaign in regards to the reef, driven by its broader agenda to have coal mining banned.
This includes misleading advertising on the London underground and on YouTube, one featuring a mother and child claims: "Half the Reef is already gone.'' This is nonsense.
Interestingly, few people were prepared to speak publicly about Greenpeace. Some would only comment on condition of anonymity, a journalistic protocol normally reserved for whistleblowers who live in fear of dictators and despotic governments and certainly not eco-friendly activists.
"We like Greenpeace, they make us look sane," one seasoned environmentalist said.
Another long-term observer said that Greenpeace was unethical in publishing photographs taken from somewhere else and using misleading numbers, adding that it was a questionable decision to combine the future of the Great Barrier Reef with the entire coal industry.
"No government, globally, could find a single solution for that issue," he said, adding Greenpeace must tackle India if it is serious about orchestrating a ban on coal exports, but this was unlikely.
"The Indians would immediately counter such an approach by flagging their right to development."
Last year the Indian government singled out Greenpeace as a "threat to national economic security."
Almost two decades ago, this journalist was on assignment with Greenpeace environmentalists and scientists working with endangered pink dolphins in the Pearl River Delta, straddled by Hong Kong and Macau.
Back then they claimed the dolphin population was devastated and were adamant they faced extinction within five years. Nothing could be done. Today there are about 2,000 pink dolphins living in the estuaries.
On Australian radio, Greenpeace has also drawn fierce criticism after admitting it employed a range of tactics that "absolutely" includes breaking the law when necessary, earning unlikely comparisons with the nation's bikie gangs who thrive on their self-anointed outlaw status.
But Greenpeace is not the only NGO in trouble. Far from it. Even the hallowed Royal Society for the Prevention of Cruelty to Animals (RSPCA) is under attack.
One politician wants Australia's head of state, Queen Elizabeth II, to withdraw her royal seal after the RSPCA extended its reach from caring for domesticated animals like cats and dogs to the horse racing industry and live cattle exports.
"It's like the live meat trade," Wilson said in regards to unrealistic NGO demands.
"The government can't monitor everyone outside of Australia. And the industry agrees there are some who don't kill animals humanely, although I still can't quite get my head around a humane way of killing something. But it is a legitimate business and it employs people."
This behavior could cost NGOs dearly. The Abbott government is mulling the removal of the tax deductible status on gifts and donations enjoyed by environmental groups.
"We've got 100 to 150 groups that seem to have their purpose at stopping industrial development, not just mining, some of those developments include tourism developments or agricultural developments but engaging in what I would view as a political debate, not the environmental debate," Queensland Liberal National Party senator Matthew Canavan told local radio.
Further afield
Greenpeace has a long history of pushing the limits. In Peru it was forced to apologize and faced criminal charges for a publicity stunt that went wrong and damaged the world famous Nazca Lines.
In the Philippines, a former Greenpeace director upset his old employer by denouncing a campaign depicting genetically modified foods as morally unacceptable.
He believed the technology was safe and could help alleviate hunger in the developing world.
Similar accusations have been leveled against ActionAid in Africa.
"It's becoming more and more a fear mongering organization, basing its campaigns in populist exaggerations and blatant lies, and disregarding science, pure and simple, either it be in the coral reef or genetically modified foods," another Greenpeace critic added.
In countries like China – where attitudes to the environment and human rights are like a red rag to an NGO bull – and in Cambodia – where more than 4,000 NGOs sprouted in the aftermath of war – groups like New York-based Human Rights Watch (HRW) and Greenpeace, are incensed by new NGO laws which they say will curtail their activities.
Those laws have also been opposed by the many NGOs that do good work in-country and want the drafts amended and clarified in regards to potential offenses which they say are open to interpretation and abuse.
But the desire to legislate received a fillip from wayward rights groups, in particular Somaly Mam, who earned worldwide headlines after allegations she fabricated sex trafficking reports that had won her anti-trafficking NGO the support of Hollywood celebrities and the money and fame that comes with them.
"It is inevitable that some of those organizations will be well managed and effective, and others less so," said Craig Etcheson, Visiting Scholar at the School for Conflict Analysis and Resolution at George Mason University in the United States.
But at a cultural level the relationship between government and NGO goes much deeper and beyond the legalities. NGOs, particularly foreign-based groups, are often perceived as arrogant and patronizing while masquerading as saints to avoid criticism.
In Thailand, the national police chief Pol Gen Somyot Poompunmuang perhaps best summed-up that antagonism in Southeast Asia when he complained about opposition from civil society groups on the most recent proposals to legalize casinos.
"NGOs are not my father!" – he declared.
Politicization of the Moral High Ground
Etcheson said the humanitarian situation in countries like Cambodia had changed as they no longer suffered the same vulnerabilities as 30 years ago, when incapable governments desperately needed NGOs to deliver basic services to their people.
"Many international NGO's now focus on politically sensitive issues such as human rights, rule of law and corruption, carrying out investigations and issuing reports that the government often finds troublesome," he said.
"And, of course, there will also be the occasional organization which turns out to be fraudulent or otherwise engaged in outright illegal activity. Those rare bad actors tarnish the image of all the rest who are honestly attempting to do good works."
This has lead to an erosion of legitimacy among some NGOs, which have grown accustomed to the moral high ground, and increased tensions with governments who want to diminish the standing NGOs enjoy in the community. Importantly mainstream audiences – who want something done about global warming, endangered species saved, and food security ensured – are being left behind.
Adam Cathro, a former journalist and currently the Media Relations Manager for Plan International Australia, echoed Etcheson's sentiments and said NGOs were becoming more outspoken but there was room for improvement.
"NGOs were always looking to do things better," he said. "I think that's a good thing, because the point of that advocacy is to influence governments and societies to change in ways that benefit the people we're trying to support in the long-term.
"But advocacy comes in lots of different shapes and forms and not everyone is going to agree with every position adopted by every NGO," he added. "I would say that if an NGO feels it has no need to improve, then it probably needs to improve more than most."
Luke Hunt can be followed on Twitter @lukeanthonyhunt