US Gives Indonesia's Climate Change Efforts a Boost
Washington looks to assist Jakarta in a critical field.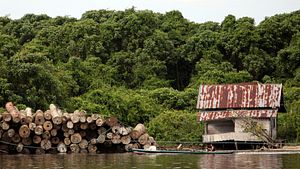 Last Friday, the U.S. Agency for International Development (USAID) mission director Andrew Sisson inked an agreement to officially award $5 million to the Indonesia Climate Change Trust Fund (ICCTF).
While the amount is small, the move is not an insignificant one. The ICCTF, one of the few national trust funds of its kind, pools and manages funds from different sources to finance Indonesian climate change programs and policies. While the ICCTF could serve as a model for other developing countries looking to secure international support for their climate change programs, its actual progress has been quite slow thus far. According to a report last year by the Overseas Development Institute (ODI), a British-based think tank, the ICCTF, with its limited capitalization, still remains just one of smaller actors in a crowded and complex climate finance landscape.
International funding for the ICCTF would help strengthen its status as a key domestic actor in Indonesia. Though the ICCTF has received government support from the United Kingdom, Sweden and Australia since it was first established in 2009, Indonesian officials have been calling for even greater international funding. Beyond that, as Sisson himself said, the fund's increasing engagement of various stakeholders within Indonesia, including non-governmental organizations, is an inclusive process that the United States ought to support.
Of course, much of this will depend on how the funds are used. In particular, USAID's small contribution could make a bigger impact if it focuses on newer aspects and engages a diverse set of non-governmental actors. "The biggest value will be in generating lessons learned in engaging with civil society actors on implementing climate change programs that go beyond traditional focus areas such as reducing forestry-related emissions," Rishikesh Ram Bhandary, a doctoral candidate and research fellow at the Center for International Environment and Resource Policy at the Fletcher School of Law and Diplomacy, told The Diplomat. The value could be further enhanced if the ICCTF can match a wide range of civil society initiatives and use the money to experiment with novel approaches, he added.
More broadly, supporting actors like the ICCTF contributes to the broader goal of helping Indonesia achieve its ambitious emission reduction targets. Indonesia is among the world's largest greenhouse gas emitters, and it has committed to ambitious cuts in its carbon footprint that could use international support. Indonesia's former president Susilo Bambang Yudhoyono had pledged that Indonesia would reduce its emissions by 26% below the "business as usual" level by 2020 based on unilateral actions, and a further reduction of up to 41% if adequate international support were to be made available.
USAID's contribution to the fund is only one small part of the growing cooperation between the United States and Indonesia in the field of climate change and clean energy. The U.S.-Indonesia comprehensive partnership inked in 2010 built on efforts by USAID and other actors including the Millennium Challenge Corporation to assist Jakarta's efforts to work towards a low-carbon economy and greater resilience to climate change. In February 2014, U.S. Secretary of State John Kerry also delivered a key address at a cultural center in Jakarta imploring Indonesian to take action on climate change. The two countries will look to make further progress in their relationship when Indonesian President Joko "Jokowi" Widodo visits Washington soon.