8 Developments in US-Vietnam Relations Show Emerging Partnership
US-Vietnam relations are neither an alliance nor a strategic partnership yet.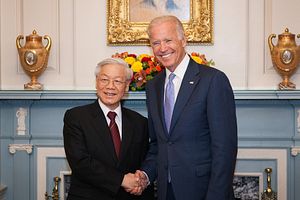 Various analysts and commentators have erred in their analysis of the recent visit to Washington by the secretary-general of the Vietnam Communist Party (VCP), Nguyen Phu Trong, by placing too much emphasis on the lack of a break through in defense relations. Trong's visit was not a tipping point in Vietnam's relations with the United States and China. Nor were arms sales and U.S. access to Cam Ranh Bay the major items on the agenda.
In 2013, when Vietnam and the United States raised their bilateral relations to a comprehensive partnership, they used this formulation because both sides independently concluded that a strategic partnership was premature. Reportedly, former Secretary of State Hillary Clinton proposed a strategic partnership with Vietnam in mid-2010. Prior to her visit, the Defense Department released its Quadrennial Defense Review (QDR) that mentioned developing "new strategic relations" with Vietnam. The 2014 QDR identified Vietnam as a "key partner."
The same situation arose in Australia's relations with Vietnam. In 2009 the then Prime Minister Kevin Rudd rejected Vietnam's request to raise bilateral relations to a "strategic partnership" reportedly because he refused to sign an agreement that was largely symbolic. In addition, Rudd felt that defense relations with Vietnam had not developed sufficient intimacy to be called a "strategic partnership." In the end, after much angst, Vietnam agreed to characterize bilateral relations with Australia as a comprehensive partnership.
The parallel does not end here. This year, when Prime Minister Nguyen Tan Dung visited Australia he met with Prime Minister Tony Abbott. They reached an agreement to enhance their comprehensive partnership in coming years but fell short from declaring a formal strategic partnership. After Secretary-General Trong's meeting with President Obama, the two leaders issued a Joint Vision Statement that emphasized intensifying their comprehensive partnership. No strategic partnership was announced.
During the course of Trong's five-day visit (July 6-10), he met with President Barack Obama, Vice President Joe Biden, National Security Advisor Susan Rice, Secretary of State John Kerry, Secretary of the Treasury Jack Lew, U.S. Trade Representative Michael Froman, Senators John McCain and Patrick Leahy, American religious leaders, Vietnamese-American community representatives, American entrepreneurs, the head of the Communist Party of the United States, former President Bill Clinton, United Nations Secretary General Ban Ki-moon, and a group of Harvard University professors.
Make no mistake, Nguyen Phu Trong's visit to Washington was historic and a major development in Vietnam-United States relations. It was also substantive for eight reasons.
First, the centerpiece of Trong's visit was his face-to-face meeting with President Obama in the Oval Office at the White House. Normally, only heads of government or state are given this honor. The Obama-Trong meeting accorded de facto recognition to the role of the VCP in Vietnam's one-party state and the importance of the party secretary-general in Vietnam's political system. If President Obama visits Hanoi before the end of his term in office, this will further underpin U.S. respect for Vietnam's political system. The meeting between Trong and Obama broke political ice and a set a precedent for future visits by Vietnam's party leader.
Second, Obama and Trong agreed to pursue "a deepened, sustained, and substantive relationship on the basis of respect for each other's political systems, independence, sovereignty and territorial integrity." These words are important because ideological conservatives in Vietnam voice suspicions that the United States wants to overturn Vietnam's socialist regime through "peaceful evolution." The fact that Trong was received in the Oval Office by Obama and the commitment of the U.S. president to respect Vietnam's political system exposed the outdated worldview of Vietnam's ideological conservatives.
Third, both leaders pledged to advance their 2013 agreement on comprehensive partnership by stepping up high-level visits and creating mechanisms to implement cooperation in the nine major areas outlined in the 2013 agreement. On July 7, the U.S. and Vietnam signed four agreements, including on double taxation, assistance for UN peacekeeping missions, cooperation in addressing emerging pandemic threats, and technical assistance for aviation safety.
In addition, PetroVietnam and Murphy Oil signed a cooperation agreement, Harvard University was given approval to establish the Fulbright University in Vietnam, and Vietnam took delivery of its first Boeing 787 Dreamliner aircraft.*
Fourth, both leaders committed themselves, in cooperation with other nations, to complete negotiations on the Trans-Pacific Partnership (TPP) and to carry out reforms necessary to reach a high-standard agreement. There are clearly several hurdles to be overcome.
The U.S. insists that Vietnam meet four principles included in the International Labor Organisation's 1998 Declaration on Fundamental Principles and Rights at Work. One of the principles is the right of workers to "freely associate" and to bargain collectively (form their own labor union). Vietnam is pushing the United States to grant it market economy status so that tariffs will be lowered on imports to the United States. Crunch time will come in late July as negotiators attempt to conclude TPP negotiations.
Fifth, both leaders pledged that Vietnam and the United States would work more closely together to contribute to peace, stability, cooperation and prosperity in the Asia Pacific both bilaterally and through regional multilateral organisations such as APEC, and ASEAN-related institutions, such as the ASEAN Defense Ministers' Meeting Plus and the East Asia Summit.
Sixth, Obama and Trong set out a framework for resolving territorial disputes in the South China Sea. Their Joint Vision States basically repeated the standard formulations on both sides–maritime disputes should be settled on the basis of international law and by peaceful means. Nevertheless, the leaders prefaced their remarks by noting:
Both countries are concerned about recent developments in the South China Sea that have increased tensions, eroded trust, and threatened to undermine peace, security and stability. They recognize the imperative of upholding the internationally-recognized freedoms of navigation and overflight; unimpeded lawful commerce, maritime security and safety; refraining from actions that raise tensions; ensuring that all actions and activities taken comply with international law and rejecting coercion, intimidation, and the use or threat of force.
In other words, there is considerable convergence of strategic interests regarding the South China Sea and both leaders easily accommodated the key concerns of their counterpart.
Seventh, Obama and Trong agreed to step up defense and security cooperation in maritime security, maritime domain awareness, defense trade and information sharing, and defense technology exchange. These commitments open new areas for cooperation. Nonetheless, the key agencies are the U.S. Department of Defense and Vietnam's Ministry of National Defense, not the secretary-general of the Vietnam Communist Party.
When the International Trafficking in Arms Regulations (ITAR) were first adopted in the 1980s, Vietnam was included, not because of human rights violations, but because it was already subject to a U.S. trade embargo. The ITAR restrictions have remained in place despite the end of the trade embargo. ITAR restrictions have now been linked with Vietnam's human rights record. This is a political decision taken by successive U.S. Administrations.
It is likely that Vietnam wants all ITAR restrictions removed to end what it views as discrimination rather than to purchase high-end offensive weaponry. Senator McCain has announced on more than one occasion that it is time to lift all ITAR restrictions. Viewed within this context, continuing ITAR restrictions are not as significant as some analysts assert. Vietnam has yet to reveal its hand about what weapons or defense technology it wants to procure under the partial lifting of ITAR restrictions. The U.S. has made clear that sales will be limited to materiel enhancing maritime security and the capability of Vietnam's Coast Guard.
Vietnam's Deputy Minister of National Defense Senior Lt. General Nguyen Chi Vinh and U.S. Assistant Secretary of Defense for Asia-Pacific Security David Shear signed a Memorandum of Understanding on U.S. assistance to Vietnam for UN peacekeeping. Vietnam is poised to raise it commitment to the UN from five military officers to deployment of a level 2 field hospital and engineer company.
Eighth, both leaders directly addressed difficulties and challenges in their bilateral relations, including human rights and market economy status, and pledged to conduct positive, frank and constructive political dialogues to reduce these differences and build trust. In sum, the future trajectory of bilateral has been reset, but it will take time to flesh out the comprehensive partnership.
The meeting between Obama and Trong has set the foundations for the development of bilateral relations in the coming years. Trong will step down as party secretary-general early next year when the VCP's convenes its 12th national congress. Obama will retire when his second terms comes to an end following presidential elections in November. In the words of John McCain, Vietnam is an "emerging partner" for the United States.
*This piece originally misidentified the Dreamliner aircraft as a Boeing 777.