A Little Africa in China
China's involvement in Africa is widely discussed. Less talked about are the lives of Africans living in China.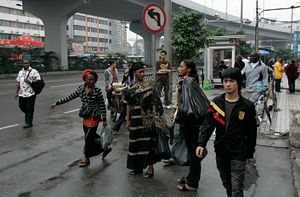 I think am going to go back to Uganda to apply for a new visa. I don't know what Chinese immigration is up to. We are students but we are treated like shit for real. At the police station at the moment in detention coz my visa card expired for 5 days coz I didn't get the documents to apply for a new visa on time. Now at the police station they are telling me I have to contact a friend or family to buy a ticket back home to apply for a new visa and come back, so I was asking them how about my classes. Am I going to throw all that away and go home instead of paying a fine for the days that passed? Was detained today morning. Still making calls.
In March, just nine months after I met Ivan Manivoo, he sent me the above message via WeChat. Ivan, a Ugandan student who had been living in China for four years and planned to spend the next several pursuing his dream of becoming an entrepreneur in China, was about to be deported. He had opened up his life to me and co-director Dorian Carli-Jones for China Remix, our documentary about African hip-hop artists living and working in China's southeastern city of Guangzhou.
Two years ago, I decided to go to Guangzhou to find out what life was like on the ground in "Little Africa," also known as "Chocolate City," labels coined by the Chinese media in Guangzhou to describe the city's African hubs, Xiaobei and Sanyuanli, where wholesale traders have been congregating since the decline of financial centers in Southeast Asia during the 1997 Asian Financial Crisis. After spending the previous three years researching China's historical relationship with the African continent, first as a graduate student and then as a freelance writer, I had decided that I would pursue my next set of questions through the medium of documentary. I hoped this would allow for a more complex and personal presentation of Africans' lives in China's wholesale capital.
In the meantime, China had become Africa's largest bilateral investor and trading partner. It had also, in 2012, clamped down on immigration through a new Exit-Entry Administration Law, which imposed stringent penalties for visa overstays and illegal labor. Through my work, I wanted to better understand the implications of China's rapidly growing economic investment in Africa and its reaction to the global migration trends that followed this engagement.