Can Modi Visit Move TAPI Forward?
A visit to Turkmenistan this week is an opportunity to jump-start the flagging project.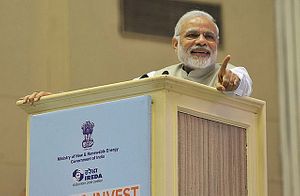 As Indian Prime Minister Narendra Modi swings through Central Asia over the next week, his docket looks to be full. As Catherine Putz detailed, Modi's focus will range from security concerns to regional projects, from ISIS to investment to improving relations between New Delhi and all the Central Asian states.
And while there's plenty on Modi's plate, it's worth highlighting one project that help encapsulates India's sputtering relationship with the region. The Diplomat has already covered the issues besetting the Turkmenistan-Afghanistan-Pakistan-India (TAPI) pipeline, but given Modi's visit, they are worth looking at once more. The $10 billion, 1,078-mile planned pipeline, set to transit Turkmen gas to customers in the three southern states, has long stood as something of an idealized project – fantastic on paper, but with little traction on the ground. While Turkmenistan needs to diversify its gas exports away from Beijing, and while Afghanistan-Pakistan-India all require Turkmen gas for economic expansion, the project hasn't congealed in a way any of them want. Turkmenistan remains wary of allowing a foreign major to access its infrastructure. India and Pakistan have their own tensions that barely require detailing. And Afghanistan's security – especially as it pertains to an above-ground pipeline – remains, at best, questionable. The Chinese factor also plays a role, with Beijing unwilling to see its client-state in Ashgabat casting about for other patrons, while Iran may soon present an alternate route for Turkmenistan to shuttle its gas.
TAPI would seem to have far more going against it than pushing in its favor. Hence, why Afghan President Ashraf Ghani recently observed that TAPI's completion date – originally set for 2018 – would now be 2020. Even that, given TAPI's recent track record, may seem optimistic.
As such, Modi's visit to Turkmenistan this week may serve as one of the best opportunities to jump-start the flagging project. According to The Hindu, Turkmen officials are looking forward to speaking with Modi about TAPI's prospects. Indeed, officials are so eager that Turkmenistan ambassador Parakhat Durdyev apparently ruled out any further delays due to security concerns. "There should be no excuses," Durdyev recently said. "Afghanistan is getting more and more involved, Pakistan has no reasons to create problems." According to the report, Durdyev added that "all the beneficiary countries are on the same page pushing for early implementation of the project."
Whether Durdyev's comments stem from frustration or excitement is difficult to discern. Regardless, his comments that the project can't, or won't, be delayed due to security concerns isn't a pledge he can make, especially considering all the security issues recently flaring on the Turkmen-Afghan border. Likewise, an "early implementation" for TAPI remains far more a wish than a reality.
If nothing else, though, Durdyev's comments may help point to renewed focus on the Turkmen side to actually push the project toward breaking ground. The outcome of Modi's visit remains to be seen. But maybe – maybe – TAPI may finally see the kick it needs, from officials at both ends of the pipeline.