Taliban Visit Turkmenistan, Promise (Again) to Protect TAPI
TAPI has long been hailed as a monumentally important project – but it's unclear whether it will ever be built.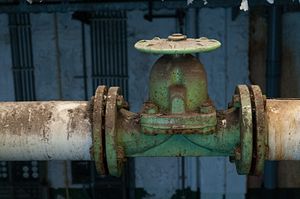 Over the weekend, a Taliban delegation – led by Mullah Abdul Gani Baradar – paid a visit to Turkmenistan where the Taliban (again) expressed full support for the Turkmenistan-Afghanistan-Pakistan-India (TAPI) gas pipeline. 
In December 2016, the Taliban said they were "committed to safeguarding" national infrastructure projects like CASA-1000 and TAPI; in 2018, a Taliban spokesperson told Voice of America that the Taliban viewed TAPI as "an important element of [Afghanistan's] economic infrastructure" and announced the group's "cooperation in providing security for the project in areas under our control."
The Taliban's second-in-command reportedly met with Turkmen Deputy Prime Minister and Foreign Minister Rashid Meredov on February 6. According to a Turkmen Foreign Ministry readout of the meeting, the two sides "stressed the importance of establishing and maintaining peace and stability in Afghanistan."
The latest pledge of support and security comes amid sluggish, but direct, talks between the Taliban and the Afghan government. Meanwhile, the United States – freshly under new leadership – is reviewing the previous administration's deal with the Taliban that stipulated a full withdrawal by May 2021. (Eurasianet recently outlined the U.S. interests in seeing the TAPI project actualized and Washington's efforts to bring the Afghans and the Turkmen together, for example via a new trilateral debuted in October 2020 and a Turkmen stop on U.S. Afghan envoy Zalmay Khalilzad's early January round of jetsetting).
This week, U.S. CENTCOM Commander, Gen. Kenneth McKenzie said violence in the country was simply "too high." McKenzie, speaking in an event hosted by the Middle East Institute, said, "The Taliban continue to resort to extreme violence and targeted killings across the country and frequent attacks on the Afghan forces. While they have mostly avoided attacks on U.S. and coalition units, the level of violence is just simply too high and so that is an action that we look at."
Emphasizing a negotiated political settlement between Afghans, McKenzie also highlighted the necessity of a "conditions-based" approach to a U.S. withdrawal. For a term that attempts to call to mind quantifiable metrics, the conditions themselves remain unstated.
Returning to the matter of TAPI: two years ago, the Taliban pledged to protect the pipeline and representatives from Turkmenistan, Afghanistan, Pakistan, and India gathered in Herat to mark the purported start of work on the Afghan portion. At the time, I noted the state of affairs:
The TAPI project, which has an estimated price tag now of $10 billion, endeavors to bring 33 billion cubic meters of Turkmen gas to energy-starved South Asia for 30 years via a 1,800-kilometer pipeline that will stretch across Afghanistan. Construction is estimated to last two years.

It's anyone's guess as to when those two years are judged to have started, however. Turkmenistan threw a groundbreaking back in December 2015 for its 214-kilometer section of the pipeline. As Bruce Pannier noted last week, Ashgabat says a pipeline has been built but there's a curious lack of even photographic proof.

Virtually all news regarding the TAPI project comes via governments or government mouthpieces. This news is usually doused in a slurry of optimism and divorced from any sense of time. The smallest steps are touted as major progress and setbacks go unmentioned.
In January 2020, Afghan media reported that work in Afghanistan had not actually begun – with delays attributed to unsigned memorandums of understanding. It's hard to imagine much progress was made in 2020, between the pandemic and the Afghan government's talks with the Taliban. The previous year, in April 2019, RFE/RL's Bruce Pannier took note of reports that suggest the previously reported-as-complete Turkmen section of the pipeline might not have actually been completed.
The readout on the recent meeting with the Taliban from the Turkmen Foreign Ministry does not offer a deadline for the project. Nor does it touch on the critical question of financing. 
Turkmenistan, which hosts the world's fourth-largest gas reserves, sells its goods almost exclusively to China. Beijing sucks up something between 30 and 40 billion cubic meters of gas from Turkmenistan annually via the Central Asia-China pipeline network. Until the network is expanded with planned, but not completed, new lines there's not much more that Turkmenistan could export to China given the capacity of the pipeline network and the fact that Kazakhstan and Uzbekistan also contribute to the volume transported. In April 2019, Russia once again began purchasing a token amount of gas from Turkmenistan, three years after ceasing imports.
TAPI has long been hailed as a monumentally important project, solving not just Turkmenistan's limited customer problem, but more importantly, bringing much-needed energy resources to South Asia – if it can ever be built.