China's Anti-Corruption Campaign Hits Top Judge
Xi Xiaoming, a judge on China's Supreme People's Court, is being investigated for corruption.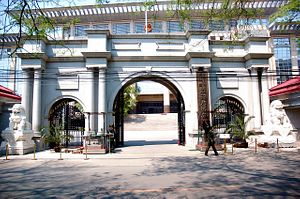 Xi Jinping's anti-corruption campaign has caught its latest "tiger": reports emerged on Monday that Xi Xiaoming (no relation to Xi Jinping), a senior judge on China's Supreme People's Court (SPC), the country's top court, is under investigation for "serious violations of discipline and laws." Xi, who is vice president of the SPC and a member of the SPC's leading Party members' group, is being investigated for breaching Party discipline, according to a statement released by the Central Commission for Discipline Inspection (CCDI) of the Communist Party of China.
The news of the graft investigation against Xi was announced without much fanfare or detail. Apart from a one-line statement posted by the CCDI, there is little other information. Chinese state media posted limited statements on the matter. Xi would be the most senior judge in China to fall under China's anti-corruption campaign. The announcement of this investigation comes a month after a Chinese court sentenced former head of internal security in China, Zhou Yongkang, to life in prison. Zhou remains to date the most senior Chinese official to come under investigation for corruption in Xi's campaign.
Zhou's investigation had partly implicated officials associated with the SPC. As Reuters notes, the SPC noted in its annual report last year that the "effects" of Zhou's corruption and network of associates had been cleared. That report also noted that Zhou and Bo Xilai, the party secretary of Chongqing ousted on corruption charges, had "trampled on rule of law, sabotaged party unity and engaged in nonorganization political activities."
Xi's case may offer the first case study of how Xi Jinping's legal reforms and anti-corruption campaign may intersect going forward. The SPC has been the body overseeing the trials of corrupt officials, and though "rule of law" doesn't exist in China in the Western sense, the Party's fourth plenum emphasized the importance of "rule by law," i.e. China's legal system must remain under Party control while keeping the processes of law interpretation and enforcement coherent. Corruption at the highest echelons of China's legal system, of course, undermines this objective.
As my colleague Shannon Tiezzi noted a year ago in the context of Zhou's trial, Xi Jinping "seeks to create a Chinese Communist Party where no single member is above the Party as a whole." Xi Xiaoming's impending case meshes with that broader objective.