China's Growth Surprise
The country's second quarter GDP figure comes in right on target.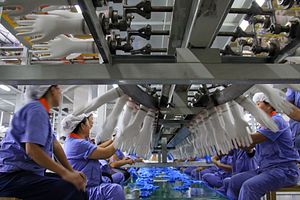 China's slumping stock and property markets have sparked widespread fears over the health of Asia's biggest economy. But with the latest gross domestic product (GDP) data from Beijing beating forecasts, have analysts got it wrong again on China?
The latest China surprise occurred Wednesday, when China reported 7 percent annualized GDP growth in the second quarter, in line with Beijing's target and ahead of market expectations of a 6.8 percent gain.
The stronger economic data resulted from a rise in industrial production, up 6.8 percent in the June quarter compared to 6.1 percent in May, while retail sales expanded by 10.6 percent and fixed asset investment increased by 11.4 percent.
"The main indicators show signs of recovery and the trend is improving," China's National Bureau of Statistics (NBS) spokesman Shen Laiyun said in a statement.
In a positive for China's much-touted switch from investment to consumption-driven growth, the NBS said consumption contributed to nearly 60 percent of GDP in the second quarter, up from around 50 percent last year.
ANZ economists Li-Gang Liu and Louis Lam were not impressed though, noting that industrial production's expansion was the "slowest pace on record," while retail sales were also at their lowest level since 2003. Exports also weighed, contracting by 2.5 percent in response to sluggish global demand and a stronger currency, while imports posted a nearly 14 percent contraction.
"While today's data came in better than expected, we believe China will need to continue implementing a proactive fiscal policy in order to lift investment in [the second half] to meet the 15 percent growth target," they said.
"We maintain our forecast that China's GDP will grow 6.8 percent for the whole year of 2015, on the back of supportive policies."
However, Capital Economics' Julian Evans-Pritchard was less confident, saying that the data appeared overly positive. While the NBS denied such suggestions, June power output only rose by 0.5 percent year-on-year, despite the reported 6.8 percent factory output gain.
"The stronger-than-expected figure will inevitably spark renewed questions over the veracity of the official data," he said.
"While actual growth is almost certainly a percentage point or two slower than the official figures show, there are good reasons to think the figures are mirroring a genuine stabilization of conditions on the ground."
The Singapore-based economist said a downward revision to last year's second quarter GDP data helped improve this quarter's comparison, while the previous stockmarket bubble helped boost the service sector, particularly financial services. According to Reuters, the buoyant sharemarket in the first half may have added more than a percentage point to total GDP, a gain that is unlikely to be repeated.
Minsheng Securities' Zhu Zhenxin told the Australian Financial Review that "it will not be an easy task for the Chinese government to maintain 7 percent growth in the second half of the year," pointing to the weak property market.
Property investment expanded by only 4.6 percent in the first half, well down on the 8.5 percent gain of the previous quarter and 10.5 percent for calendar 2014, reflecting a large inventory overhang, particularly in second and third-tier cities, according to ANZ.
While the improved GDP data helped Asian stockmarkets rally, the Shanghai Composite Index dropped for a second straight session, with the benchmark index dropping by a quarter in just four weeks.
"There's profit-taking after the market's recent rebound," Jeffrey Chiu, a Hong Kong-based trader at Winnington Capital, told Bloomberg News. "The market will slowly come down again and we will see more consolidation. There are people who believe in the government's measures and those who don't."
Despite the recent market rout, the median price-to-earnings ratio for China's bourses remains high at 63, above any of the world's 10 largest markets and only slightly below the peak of 68 in 2007, according to Bloomberg.
In its latest World Economic Outlook, the International Monetary Fund predicted that China's economy would grow by 6.8 percent this year and 6.3 percent in 2016, unchanged from its April forecasts, with India expected to gain the title of the fastest-growing major economy.
In downgrading its global growth forecast to 3.3 percent this year, down from last year's 3.4 percent gain, the Washington-based financial institution cited the risks from China's stockmarket boom and bust.
"Greater difficulties in China's transition to a new growth model, as illustrated by the recent financial market turbulence," risk the global recovery, it said. Other risks to the world economy include "lower commodity prices and tighter external financial conditions, structural bottlenecks, rebalancing in China, and economic distress related to geopolitical factors," the IMF added.
Despite calls for more action from Beijing to kick-start its softening economy, other analysts have warned that China's underlying growth model may be losing its power, akin to the erosion of the export-led growth model seen in countries such as Japan and the "Asian Tigers."
"The world is awash with cheap Chinese exports, and China has more new housing and infrastructure than its people know what to do with. At the same time, the most basic supply-side mechanism of China's growth – the flow of underemployed farm workers from the regions to the expanding factories and construction sites of the cities – is slowing. The country is starting to run short of cheap labor," warned the Australian Financial Review's Alan Mitchell.
"For China's reformist president, Xi Jinping, the two big economic challenges are to skirt a financial crisis and manipulate the economy into a soft landing in the short term, while keeping China out of what economists call the 'middle-income trap' in the medium term," he said.
For a government already expecting for 2015 the weakest economic expansion in 25 years, overcoming such challenges and achieving its desired "new normal" might prove the biggest surprise yet.