Confirmed: US Navy Launches Underwater Drone From Sub
The US Navy is making slow but steady progress in expanding its undersea warfare capabilities.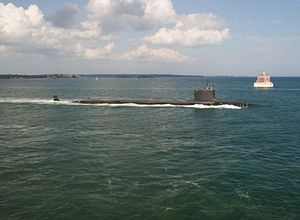 The Virginia-class nuclear-powered fast attack submarine USS North Dakota (SSN-784) has launched and recovered an underwater drone for the first time, according to AP.
This week, the USS North Dakota returned to the United States after a nearly two-month deployment to the Mediterranean Sea. The submarine was specifically tasked with testing the launch and recovery of an unmanned underwater vehicle (UUV) while submerged.
"This was something they thought we could go do. We went out, and we proved that," the sub's commanding officer, Captain Douglas Gordon told AP.
Gordon declined to provide additional details on the mission except that the underwater drone was launched from a dry deck shelter – a removable module that can be attached to a submarine – which makes entering and exiting a sub easier when the boat is submerged.
He also highlighted that thanks to the underwater drone, a submarine is now capable of executing more than one mission simultaneously: "We can do a dual mission. UUVs do their thing while we do other operations."
The underwater drone launched from the USS North Dakota is a REMUS 600 Autonomous Underwater Vehicle; however, the commanding officer declined to elaborate whether the UUV was self-guided or piloted by a crew member, AP states.
A I reported back in April (see: "US Navy to Deploy Underwater Drones by the End of 2015"), the Remus 600 is constructed by the Kongsberg U.S.-based subsidiary, Hydroid, and is similar to the Bluefin-21 UUV. Additionally I noted:
Designed through funding from the Office of Naval Research, the REMUS 600 is modeled after the REMUS 100 UUV, built by the Norwegian-based Kongsberg Maritime defense contractor, and can be deployed for a wide range of missions including mine counter measure, harbor security, and search and salvage operations.
The U.S. Navy's director of undersea warfare, Rear Admiral Joseph Tofalo, said in an interview in April that the navy will primarily rely on commercially available UUVs for the time being:
We're using commercial off-the-shelf technologies to do real world missions for the combatant commander. The oil and gas industry uses these things for all kinds of functions. The submarine force will be adapting this. The sensors are similar to the sensors that the oil and gas industry might use. They might be surveying where their oil pipes are, whereas we might want to be looking for a mine field.
Piloting an underwater drone is technically very challenging, since communicating with UUVs is extremely difficult – oceans are opaque to radio signals and acoustic signals travel a lot more slowly than radio waves. Consequently, UUVs will have to operate almost completely autonomously.
As I noted in my previous article, the U.S. Navy is currently testing and developing a number of different underwater drones and has made available a "significant" amount of money for the expansion of its UUV fleet in the Pentagon's 2016 defense budget.