How Does Kazakhstan Plan to Pay for the Olympics?
Astana says there's plenty of (oil) money in the bank.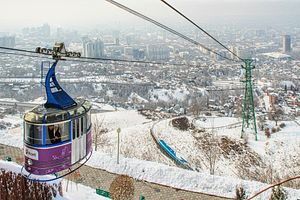 Wednesday, Kazakh Prime Minister Karim Massimov seemed fairly confident in Kuala Lumpur that his country's $70 billion oil fund would be able to financially back up the 2022 Winter Olympics should they win the vote Friday to host over Beijing, long-considered–despite a lack of real snow–the front-runner.
Other news that broke Wednesday paints a distinctly less confident picture. The Financial Times's Moscow correspondent Jack Farchy reported that the Kazakh central bank would be buying a 10 percent stake in KazMunaiGaz, the state oil company, and the money would be paid into the country's sovereign wealth fund:
In a statement on Wednesday, the government said that the price of the stake would be determined by an independent valuation, but would not be less than 750bn tenge ($4bn) – which would be paid by the central bank to Samruk Kazyna, the sovereign wealth fund.

Earlier this month, Kazmunaigas announced plans to transfer half of its 16.9 per cent stake in the Kashagan project to Samruk Kazyna, its parent, for a consideration of $4.7bn in cash.
Perhaps that's why Massimov, according to Reuters, referred to the oil fund as "like cash in the bank." Because soon, some of the cash, will literally be from the (central) bank.
The International Olympic Committee is set to vote Friday on whether Almaty or Beijing will host the 2022 Winter Olympics. Kazakhstan's bid motto is "Keeping it Real" — a direct jab at Beijing's lack of natural snow. One of the risks and challenges noted in the IOC's June evaluation report was Astana's ability to pay for the games. "Economic factors," the report says, "including low oil prices and exchange rate issues, could negatively impact Games preparations and the government's capacity to provide financial and other support."
Kazakhstan's oil fund is a sovereign wealth fund–as Massimov said is "based on the Norwegian model"–and is supplied by revenues from the country's oil and gas resources. While economic diversification has been a huge part of several state initiatives, nearly 70 percent of Kazakh exports are petroleum products of one sort or another. The drop in oil prices last year and Russia's recession had a serious impact on the Kazakh economy–which in 2014 had a growth rate of 4.3 percent but is forecasted by the World Bank to grow at only 1.3 percent in 2015.
According to Oleg Kouzmin, an analyst at Renaissance Capital in Moscow quoted by FT, a central bank buying a stake in an energy company is "very unconventional."
KazMunaiGaz's revenues have fallen in recent months and the state-owned company " faces $9bn in debt repayments and interest over the next five years," according to analysis by Sberbank cited by FT. In February, S&P downgraded KazMunaiGaz's credit rating, and in April, Moody's did the same.
Still, the Kazakhs are optimistic: the Astana Times published a sugary "good game" editorial earlier this week, writing that "no one who has been following the process closely should be shocked if the underdog comes out on top or be concerned that Almaty would not stage first-class Games."
For Kazakhstan, the quest for the Olympics–and WTO membership, in a way–are more about image than economics. Massimov essentially confirmed this idea, telling Reuters that "25 years ago we used to be part of the Soviet Union. Now our direction is the World Trade Organisation, OECD, the Olympics. We want to change the image of Kazakhstan."