India Inks New Nuclear Deal with Kazakhstan
The recent deal will see Kazakhstan supply India with 5,000 metric tons of uranium between 2015 and 2019.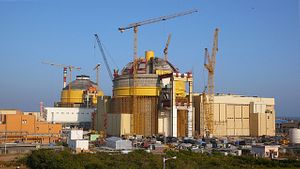 In an agreement reached while Indian Prime Minister Narendra Modi visited Kazakhstan July 6, Central Asia's largest economy and the world's largest producer of uranium will supply India with 5,000 metric tons of nuclear fuel in the 2015-2019 period. Between 2010 and 2014, Kazakhstan supplied India with 2,100 metric tons of uranium. While expressing pleasure at the "much larger second contract," Modi noted that Kazakhstan was "one of the first countries with which we [India]  launched civil nuclear cooperation."
The increase in uranium supply is a boon to Modi's energy plans. India, which has increasingly faced an energy-deficit, dealing with blackouts and leaning heavily on coal has begun to focus on building up its nuclear power capabilities in recent years. India has seven nuclear power plants, which operate a total of 21 nuclear reactors. Six more nuclear reactors are under construction. India's aim is to supply a quarter of its electricity from nuclear power by 2050, an ambitious goal. Last summer, Modi directed the Department of Atomic Energy to triple India's nuclear capacity to 17 GWe by 2024.
Initially, the development of Indian nuclear power production was largely independent. Excluded from the nuclear nonproliferation treaty (NPT) because it acquired nuclear weapons after 1970, Indian nuclear energy development proceeded without external fuel sources or technical assistance. In September 2008, however, the Nuclear Suppliers Group (NSG)–a multinational group formed in 1974 in response to India's first nuclear weapons test that controls the export and re-transfer of nuclear materials–granted India a waiver, allowing it to engage in international nuclear trade. The waiver came after significant U.S. pressure, most clearly stated in the signing of the Indian-United States Civil Nuclear Agreement in 2006.
India now has uranium contracts with Kazakhstan, Russia, Mongolia, Argentina, and Namibia.
Kazakhstan produces 38 percent of the world's uranium–22,451 metric tons in 2013–more than the next three top producers combined (Canada, Australia, and Niger). The country is also set to host the International Atomic Energy Agency's low-enriched uranium (LEU)bank, a facility which will stockpile LEU, used in civilian nuclear power reactors, in order to assure supply to members should they experience a disruption.
While Kazakhstan is decidedly rich in nuclear materials, it has distinguished itself as a firm proponent of nonproliferation and peaceful use of civilian nuclear power. In 1991, when the Soviet Union dissolved, newly-independent Kazakhstan inherited a sizable stockpile of Soviet nuclear weapons–the world's fourth largest at the time. The Semipalatinsk test site, also called the Polygon and located on the Kazakh steppe, had been the scene of more than 450 nuclear tests over four decade of Soviet control. In the 1990s Kazakhstan worked to repatriate the weapons, and was declared nuclear-free in 1995. Twenty years later, in an article published by The Diplomat, Kazakh foreign minister Erlan Idrissov said "This history explains the determination of Kazakhstan and its citizens to campaign for a permanent end to nuclear testing and, in the long run, a nuclear weapon-free world."
India and Kazakhstan also made a number of other agreements during Modi's visit, covering military cooperation, coordination on counterterrorism, and range of economic and business deals. The uranium supply agreement, between Kazakhstan's state nuclear energy supplier Kazatomprom and India's Department of Atomic Energy, is just a small part of increasing cooperation between the two countries.