Kracowood: Bollywood's New-Found Love Affair With Poland
Poland is becoming increasingly popular with India's film and advertising industries.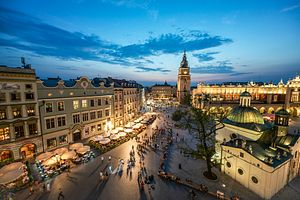 Indians like to blow up places in Poland. In Bangistan, a Hindu and a Muslim terrorist will try to disrupt an interfaith conference in Kraków. The same venerable city suffered also when a bomb planted on its famous square went off in Aazaan. But the first, now somewhat forgotten case was Fanaa, in which Kashmiri terrorists were hiding in the Polish mountains.
These are all, of course, movie plots. For a true blast, we might instead consider the explosion of Poland's popularity among Indian movie producers. Perhaps "explosion" is too strong, so far only a few Indian movies have been shot in Poland. In comparative terms, though, the change is astonishing; nearly all of the movies shots in Poland were made in the last three years.
Everybody in the industry knows what is at stake here. The stunning success of the Guinness record-breaking Bollywood movie Dilwale Dulhaniya Le Jayenge (1995) turned Switzerland into one of the most popular vacation spots for well-heeled Indian tourists. Since then countries across the globe have been vying for the attention of the biggest movie industry in the world.
Some leading Indian producers – whether from Bollywood, Kollywood or Tollywood – have had the imagination, boldness and resources to even fly a large chunk of the crew to the other corner of the world simply to shoot a brief song in exotic surrounds. One slightly radical is "Kilimanjaro," the song from the 2010 Tamil movie Enthiran (The Robot). Don't be fooled by the song title. It was actually shot at Machu Picchu in Peru and, despite the huge amount of money spent on it, is completely irrelevant to the plot.
This suggests that there are many reasons and ways to attract an Indian movie team to a particular country. While it might be naïve to believe that Poland could replicate Switzerland's success (but why not dream big?) other, more recent cases do demonstrate that there is a connection between Indian movie settings and the overseas travel choices of Indian tourists. For instance, the 2011 Bollywood romance, Zindagi na Milegi Dobara, apparently sent a large number of Indians to Spain.
The first, already mentioned Indian movie to be partially shot in Poland was Fanaa. It featured the huge Bollywood stars Aamir Khan and Kajol in lead roles. The snow-capped Tatra mountains and the traditional mountaineer houses substituted for the Kashmir landscapes where part of the film is set. (We can see them in the tongue-twisting song "Chanda Chamke"). Fanaa hit the screens in 2006 and did well, but did not lead to a rise in Poland's popularity amongst Indian movie producers. It was only a couple of years later, after a complete hiatus, that the Polish promotion campaign began to yield results.
Kraków, the old capital of Poland and by far the most popular city with foreign tourists (it attracts more of them annually than all of India), was featured in the 2011 Indian movie Aazaan, and then in 2012 in Yah Jo Hai Mohabbat and in a song from Saguni in 2013. Admittedly, none of these movies were a huge hit. However, the 2014 Bollywood movie Kick featured locations around the present capital of Poland, Warsaw (and a London double-decker in curious cameo). The film's hero was played by Salman Khan. This is usually enough for the movie to draw huge crowds and so it proved with Kick. Other examples from around Poland followed. Part of the movie Shaandaar was shot in Kozłówka palace in eastern Poland, while the Mahakumbh TV series features, among others, the castle in Lubiąż.
The upcoming Bangistan, a Bollywood comedy about the absurdities of religious terrorism, will again show Kraków and other locations in the surrounding province, Małopolska (Lesser Poland). These examples would indicate that, apart from the case of modern Warsaw, so far it is the historical architecture of Poland that Indian producers find particularly appealing. Importantly, in Fanaa Poland pretended to be Kashmir, in Aazaan, Mahakumbh, Kick and Bangistan Poland is actually Poland. Although the two states mentioned in the plot of Bangistan, the Muslim radical-ruled North Bangistan and the Hindu nationalist-governed South Bangistan, are fictional, Poland is again playing itself. Such recognition issues are clearly important to tourism promotion.
Three institutions have been especially instrumental in bringing Indian moviemakers to Poland: The Polish Tourism Organization (Polska Organizacja Turystyki), Film Polska Productions, and Kraków Festival Office (Krakowskie Biuro Festiwalowe). The third of these is responsible for the promotion of Kraków city. The Polish Tourism Organization has been wooing Indian movie producers since 2009 and in 2012 it started the "I like Poland" campaign, which focused on the Japanese, Chinese and Indian tourist markets, and again took film producers into account. Attracting the producers of Kick was part of this effort, and to make it happen the Polish Tourism Organization offered a financial incentive – not an uncommon solution in cooperation between tourist organizations and film producers – to the film's creators.
Other areas of cooperation are also emerging. Poland is a growing market for the production, and, even more so, for post-production of Indian commercials. The most famous case of the former was a commercial starring Bollywood star Katrina Kaif shot in Kraków. Among the companies that post-produce Indian advertisements is Alwernia studios, which also post-produced one of the recent Indian films, Bhaag Milkha Bhaag. Apart from these examples a Pole, Artur Żurawski,  served as director of photography for Mardaani, a recent Bollywood movie starring Rani Mukherji that deals with the issue of human trafficking.
Bearing in mind that relatively small Poland was virtually unknown to Indian movie- and advertisement-makers just a few years back, the recent events can certainly be considered a success. But a crucial question remains to be answered: Will these movies bring larger numbers of Indian travelers to Poland?
Krzysztof Iwanek is a South Asia expert with the Poland-Asia Research Centre (Centrum Studiów Polska-Azja, polska-azja.pl). Although Polish, he currently teaches Hindi to Koreans, while working as an Assistant Professor at the Hankuk University of Foreign Studies, Republic of Korea. He holds two MA degrees: in History and in South Asian Studies and a PhD in Cultural Studies. His main area of interest is contemporary Indian politics and political ideologies. He has published many articles on India, Pakistan and Nepal and with Adam Burakowski co-authored a book, Indie. Od kolonii do mocarstwa. 1857-2013 (India. From Colony to a Power. 1857-2013).