How Bollywood Discriminates Against Playback Singers
Bollywood's playback singing industry is brutal for upstarts and newcomers.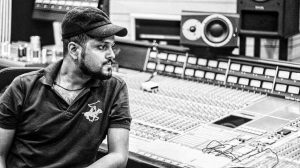 Growing up in New Kenda (a small place near Kolkata, India), Vivek Verma had only one ambition and that was to pursue the performing arts. But in a country of 1.3 billion and having a humble background, he expected a tough road ahead. Born to a middle-class family, where both his mom and dad have worked as school teachers, breaking into Bollywood was not an easy task, despite having the talent.
Trained in Western and Eastern classical music, Verma knew deep inside that staying behind was not an option.
He moved to Mumbai in 2011, without any contacts, and no money to his name. "My family was not that rich to provide me with a lump of money and yet I ventured out hoping I'd make a mark for myself."
The struggle was real for Verma. Every day was like a burden. He was forced to save every penny to survive, wake up the next day, and hustle. Verma met a few people who helped him to grow.
"In my journey, I met a lot of people who helped me a lot in becoming what I am today; I call them the people of God."
Looking back to his days in Mumbai, Verma wonders how he managed to spend days sleeping on the benches of bus stops with the sky over his head and earth beneath. The only thing giving him the energy to survive, he says, was his passion for music and confidence in himself — that someday he would get a chance to work in Bollywood.
Mumbai to him was like a jigsaw puzzle, where knowing the right person and having the correct contacts meant a breakthrough. Soon he received some contacts in Mumbai and got the chance to work too.
Verma came in contact with India's famous singer, Himesh Reshammiya, and after joining his team he was able to work for major films like Action Jackson, All is Well, Prem Ratan Dhan Payo, Sanam Teri Kasam, Aap Se Mausiiquii, Teraa Surrorr, and Happy Hardy and Heer.
He went on to release two successful albums, Humsafar and Mai Aur Tu, and worked with several talents in the music industry.
The initial success made Verma feel over the moon, but soon he realized that Bollywood was not so rosy after all. 
"Later, when I got some contacts in Mumbai and some work too, I got to know that there is no value of talent in the industry on a primary basis. The thing that matters a load was a good appearance and money at first, then comes the talent," Verma told The Diplomat.
"The reason behind this is that people who are going to give you work in industry mostly want to see you settled, matured enough, and experienced with Bollywood. So if you have this the chances are high that you will start getting work."
Verma saw the plight of several young musicians who struggled to survive. He persisted and now has two music studios – one in Mumbai and another in Greater Noida, outside Delhi. He spends most of this time in Mumbai.
For a long time, Bollywood has been criticized for its nepotistic nature. The recent death by suicide of Indian film star Sushant Singh Rajput has yet again raised the issue. Young musicians in India continue to struggle and the Bollywood music industry is no different. The competition is extreme and only those who keep working hard will be able to achieve something.
For his hard work, Verma was awarded with Web Ratna Award in 2009 and the BizAsia Music Award for the Best Male Debut Singer category in 2019.
The struggle has been real for Verma as he waits to release his EPs for big labels like Sony Music India, Saregama, and Zee Music. While he also focuses on releasing singles, working as a record producer, and hoping to promote the fusion of Indian classical and electronic music, he hopes things will get better for the young Indian musicians that seek to follow in his footsteps.
Verma, sitting on his flat in Greater Noida, contemplates his journey in Bollywood's playback singing industry. The road has been arduous and at times disappointing. "The suicide of Sushant Singh Rajput has hit me hard. The whole nation is sick of how nepotism, casteism, and systemic racism exists in every industry."
"Nepotism not only affects Bollywood actors but its effect is visible in every sector, including the playback singing industry. I hope one day Bollywood becomes inclusive so that another Sushant won't perish to its demons."
At his home studio, Verma checks his new single "Aashiyana," which is set to be released soon on his YouTube channel, and wonders if Bollywood will be accepting of young talents like him one day. He plans to return to Mumbai once things return to normal after the pandemic.