Kyrgyzstan Denounces Cooperation Treaty with America
The diplomatic row between Kyrgyzstan and the U.S. continues, taking with it a treaty that benefited aid programs.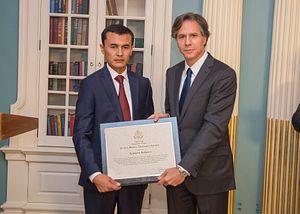 Kyrgyzstan, it appears, wasn't bluffing when it warned last week that it might denounce a 1993 treaty with the United States after the State Department decided to give Azimjan Askarov the 2014 Human Rights Defender Award.
At the ceremony last week, Askarov's son Sherzod accepted the award on behalf of his father, who is currently serving a life-sentence in a Kyrgyz prison. Sherzod called his father "a tireless defender of human rights" who has "sacrificed his freedom and well-being in the cause of truth and justice."
The Kyrgyz say Askarov is a "criminal who publicly incited ethnic hatred" during the violence that flashed through southern Kyrgyzstan in 2010. The Kyrgyz Ministry of Foreign Affairs, in condemning the award, refers to Askarov as "a symbol of disruption" and says the award is evidence of an attempt to undermine Kyrgyzstan's unity.
In his remarks during the award ceremony, Deputy Secretary of State Antony Blinken, paints a very different picture of Askarov than the Kyrgyz (and the Russians, I might add) do. Blinken says that during the 2010 violence, "Askarov made it a priority to publicly report on the crisis and document violations of human rights." At "a time when his nation needed him most," Blinken continued, speaking of Askarov, "he was arrested, subjected to harsh mistreatment, judged in a trial rife with procedural irregularities, and sentenced to life imprisonment, where he remains to this day."
The Kyrgyz fired back, announcing their intention to scrap a 1993 cooperation treaty with the United States and delivering a note of protest to the U.S. charge d'affaires in Bishkek, Richard Miles (read about the Miles-related conspiracy theories in my piece last week.) The U.S. Embassy in Bishkek commented, when Kyrgyzstan first threatened to denounce the cooperation treaty last week, that abandoning the treaty could "jeopardize aid programs that benefit citizens of Kyrgyzstan, including programs on combating violent extremism, increase of economic growth and creation of jobs, improvement of education system, as well as programs on support of democratic development of Kyrgyzstan."
The diplomatic tiff has now moved into a new phase. On Tuesday, the Kyrgyz Prime Minister Temir Sariyev reportedly signed a decree denouncing the 1993 treaty. According to Kloop, the denunciation won't take effect until August 20.
The agreement between Kyrgyzstan and the U.S. in question is relatively short–six articles that take only three pages. The treaty specifically aims to facilitate the provision of U.S. humanitarian and technical assistance. That's diplomatic speak for tax breaks and personnel protection. Under the treaty, goods–supplies, commodities, property–imported into Kyrgyzstan in connection with U.S. assistance programs are exempt from tariffs and other fees. In addition, non-Kyrgyz working with aid programs are exempted from paying income and social security taxes. Government aircraft and other vessels connected to assistance programs also get a break from usual tolls, fees, and charges.
The treaty also provides civilian and military personnel working with assistance programs the same diplomatic protections enjoyed by "administrative and technical staff personnel under the Vienna Convention on Diplomatic Relations." The 1961 Vienna Convention lays out the definitions and protections of diplomatic agents. Administrative and technical staff enjoy a number of protections, including a measure of diplomatic immunity.
Another component of the 1993 agreement grants the United States the right to inspect and audit the implementation of assistance programs and associated documentation, as well as demand a refund if goods are misused.
Under the treaty Kyrgyzstan forgoes tax revenue for increased U.S. aid investment. Giving up the treaty has financial implications that could, as the Embassy warned, jeopardize aid programs by making the cost of business higher. The Kyrgyz denunciation of the treaty may punish Kyrgyz businesses that work with U.S. assistance programs (think local contractors and suppliers) more than the United States.
Beyond the financial implications, revoking the diplomatic protections enjoyed by civilian and military personnel working with aid programs is more problematic. This move is a far cry from breaking off relations–a bilateral investment treaty remains in place, as do regular diplomatic relations–but it is a worrying development. The treaty was nearly as old as the state itself and had survived two revolutions, only to be brought down by a human rights award.