In Kyrgyzstan, No Freedom for Askarov
A Bishkek court upheld the human rights defender's life sentence.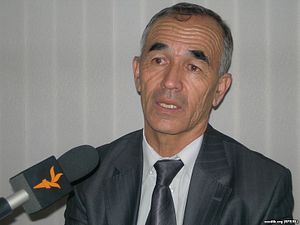 More than three months after 66-year-old Azimjan Askarov's retrial began, the Chui Regional Court in Bishkek once again found him guilty, upholding the 2010 verdict and life sentence.
The verdict brings Askarov's years-long saga, if not to a conclusion, then to a significant wall. What momentum seemed to be building for his release in the last two years has been broken.
Askarov, an ethnic Uzbek from southern Kyrgyzstan, was convicted in September 2010 of participating in the murder of a policeman during the violence that erupted after the second Kyrgyz revolution. He was among dozens of prominent Uzbek community members who were arrested in 2010.
Human rights groups consistently agitated for his release, arguing that he'd been tortured and that his conviction was politically motivated. Nonetheless, Askarov's case remained largely out of international headlines until the U.S. State Department honored him with its annual Human Rights Defender Award in 2015. The Kyrgyz response was quick and sharp: canceling a cooperation treaty and warning that the incident could do "serious damage to bilateral relations."
In July 2015, when Askarov's son accepted the Human Rights Defender award on his father's behalf, then-Deputy Secretary of State Antony Blinken said Askarov had been "arrested, subjected to harsh mistreatment, judged in a trial rife with procedural irregularities, and sentenced to life imprisonment, where he remains to this day."
In April 2016, the UN Human Rights Committee issued its decision on a petition filed by Askarov in 2012 complaining that his rights had been violated. The committee was unequivocal, its press release clear:
UN experts have called on Kyrgyzstan to immediately release jailed political activist and journalist Azimjan Askarov, after finding that he had been arbitrarily detained, held in inhumane conditions, tortured and mistreated, and prevented from adequately preparing his trial defense.

The UN Human Rights Committee, which considered a complaint brought by Mr. Askarov against Kyrgyzstan, also called for his conviction to be quashed.
At the time, Kyrgyzstan's constitution included a clause that enabled citizens to seek redress for human rights violations in international bodies, and obligated the Kyrgyz state to "take measures to their restoration and/or compensation of damage."
Despite initial hopeful signs — the Kyrgyz Supreme Court overturned Askarov's life sentence — Bishkek nonetheless opted to retry Askarov rather than do as the UN requested and release him. The retrial began in October. In December, Kyrgyz citizens voted on a package of controversial constitutional changes, which passed easily. One of the changes was the deletion of the human rights clause which provided the initial motivation for Askarov's retrial.
In a statement shortly after the decision Office of the United Nations High Commissioner for Human Rights (OHCHR) spokeswoman Ravina Shamdasani said the verdict was "deeply troubling." The statement continued, saying that the decision "clearly did not take into account the views of the UN Human Rights Committee" and "vividly displayed the deficiencies in the country's judicial and law enforcement system."
Askarov has pledged to begin a hunger strike and his lawyers say they are appealing the decision in the Supreme Court. But prospects for freedom seem as bleak as ever and the ground rules have changed. The Kyrgyz constitution no longer mandates that the state listen to the UN, or other human rights bodies which have confirmed rights violations alleged by Kyrgyz citizens — but it was clear Bishkek wasn't keen to do so even when it was written in the constitution.
Moreover, the United States looks less and less likely to exert pressure on Kyrgyzstan with relation to human rights. Donald Trump, the newly inaugurated president of the United States, has said devastatingly little about human rights anywhere, let alone in Kyrgyzstan.