Sorry, Modi – China Still Doesn't Take India Seriously
Despite efforts by India's prime minister, China's attitudes toward its neighbor have not changed.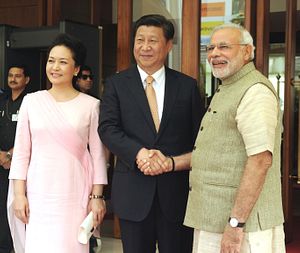 Not long ago, Indian Prime Minister Narendra Modi had an apparently successful visit to the People's Republic of China. In a rare departure from protocol, Chinese President Xi Jinping didn't receive Modi in Beijing, but his hometown of Xi'an. The highest level of reception was accorded to the Indian prime minister.
On his part, Modi was surprisingly candid. He asserted that there was a need for China to reconsider its approach on some of the issues that hold the two countries back from realizing the full potential of their partnership. As good hosts, the Chinese listened — but like the great terracotta warriors of Xi'an, they stood silent, firm, and resolute.
Diplomatic signals and international activity by the Chinese state since visit signals that for China, it's business as usual. Beijing has simply ignored Modi's advice.
While China does seem to appreciate India's economic rise and has taken note of India's diplomatic activity in South and Central Asia, it is neither terribly concerned nor particularly enthused at the idea of a mutual partnership. China just does not see India as worth cultivating.
This was reflected in China's recent white paper on defense, where India does not figure at all. White papers articulate a state's threat perception and military response. China has signaled that India is a minor matter and not worthy of too much thought.
China's Growing Military Capabilities
This contempt for India is backed by China's rapid strides in military capability. The Chinese navy has been increasingly assertive in India's littoral — including port visits to Sri Lanka by its nuclear submarines and, more recently, one to Pakistan by a conventional submarine.
Chinese PLA Navy warships have been spotted on long deployments just off India's coasts so often that the Indian chief of naval staff, Admiral Robin Dhowan, said that India "is minutely monitoring" Chinese maritime activity.  China is also reportedly seeking bases in the Indian Ocean region, with Djibouti as a possible host for the first such base.
Similarly, the PLA Air Force now routinely flies several more sorties in Tibet. The PLAAF is at a relative load disadvantage as fighter aircraft performance, especially the capability to carry payload, is down by up to 50 percent when taking off from Tibetan airfields. To compensate, the PLAAF has apparently just decided to up the numbers of aircraft. It is believed that the Chinese now deploy up to 20 squadrons in Tibet, including the H-6 long range bomber, armed now with cruise missiles, and the new Su- 27s, which can carry about 60 percent payload even from those heights.
Finally, the militaries of China and Pakistan are working in ever-increasing coordination through high level exchanges, military exercises, and drills. Such cooperation is critical in modern warfare — it sharpens joint operation capabilities and makes a two-pronged offensive against India possible. In military terms, China is upgrading its capability while its intentions remain as aggressive as ever.
The Border Issue
When it comes to the long-standing border dispute, India wants to clarify the Line of Actual Control (LAC) with China. China has shown disdain for these proposals. As far as China is concerned, this is not the time to clarify the LAC in the Ladakh sector; in a rare official comment, a mid-ranking Chinese official recently ruled out any such demarcation. Despite efforts at a summit level meeting, where Modi boldly invested a great deal political capital on this public platform, China has chosen to ignore Indian suggestions that marked borders are secure borders. India has drawn a blank on any forward movement on the border issue since China prefers not to be drawn into any cartographic commitments.
The pattern is played out in China's determination to build the $45 billion China-Pakistan Economic Corridor (CPEC). A large part of the project will pass through areas in Kashmir that India considers its own territory. China is already undertaking feasibility surveys, which involve PLAs troops in significant numbers. In pursuing the project — seen by many as over-ambitious and wasteful — China has signaled that it does not take India's claim on Pakistan-occupied Kashmir at all seriously.
India's Options
Confronting a powerful and aggressive China is a difficult task. Diplomatically, India is doing some things right, such as reaching out to neighbors like Bangladesh and the countries of Central Asia. However the true ace up India's sleeve is greater cooperation between maritime democracies. The United States, Japan, and Australia are natural partners.
Here, alas, India has vacillated, for example hesitating to invite Japan to join the large scale Malabar maritime exercises. India must give up this fear of upsetting China. China certainly has no concerns about upsetting India in cozying up to Pakistan – a partnership that included sharing a nuclear bomb design. India must fully embrace the strategic scope of maritime diplomacy. Going ahead with the trilateral naval exercise is a start.
The other immediate task for India is to beef up its armed forces. This is a tougher ask. India is short on weapons, ammunition, aircraft, missiles, and almost everything else. A decisive push in policy, even if it calls for short term imports, is critical to play catch-up.  A viable military posture is the need of the hour. The purchase of the Rafale aircraft is a step in that direction. India also needs to speed up its warship building efforts, which are running half a decade behind schedule.
When confronting a seemingly-hostile China, being militarily prepared will give some confidence to India's diplomatic initiative. India's ballistic missile program is crucial here, particularly the operational deployment of missiles on a nuclear submarine. A fully operational triad will give India more leverage in dealing with a belligerent China.
Modi's much talked about selfie with Chinese Premier Li Keqiang was an interesting soft power gambit. However, going toe-to-toe with the Chinese state is proving to be a different ball game altogether. The Indian soldier on those disputed high altitude borders knows this well. China is unlikely to blink first. India must retain flexibility of response and prepare for a difficult future with the self-perceived "Middle Kingdom."
Ninad Sheth is a senior journalist and commentator on international relations and was a visiting fellow at the Institute of Chinese Studies in Delhi.