Revisiting India's China Challenge
China views India's growing security cooperation with concern, especially since the revival of the Quad in 2017 and in the context of border tensions since 2020.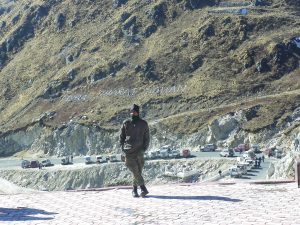 Relations between India and China have grown increasingly acrimonious prompting India's Minister for External Affairs S. Jaishankar to describe them as "abnormal."
There is a Chinese idiom that says: "One mountain cannot hold two tigers." As the border standoff enters its fourth year, it is evident that China is seeking to become the sole tiger in the Asian mountains.
Recently, China's President Xi Jinping decided to skip the G-20 summit in New Delhi, sending Premier Li Qiang in his place. Unlike Russia, which offered an explanation for President Vladimir Putin's non-attendance at the summit, China's Foreign Ministry spokesperson Mao Ning provided no reason for Xi's absence, showing scant regard for its neighbor's G-20 presidency. This came after China skipped two G-20 meetings held earlier this year, while also repeatedly objecting to the inclusion of the theme, "Vasudhaiva Kutumbakam" (The World is One), in G-20 documents.
Several factors including the role of the United States, the Tibet issue, the contested border, and the Chinese perception of itself and India have inhibited normalization of relations.
China's Self-perception
Sino-Indian tensions are rooted in part in Beijing's self-perception as a "Middle Kingdom," envisioning itself as the epicenter of civilization surrounded by what it considers barbarians. This has led to its neglect of other cultures, including India's. This is evident by historical and official reluctance in China to acknowledge ancient India's cultural contributions through Buddhism and Sanskrit.
This condescension pre-dates the founding of the People's Republic of China. Liang Shuming, a neo-Confucian philosopher born in 1893, advocated for the elimination of Indian influence as a prerequisite for China's rejuvenation. Similarly, Hu Shih, a Chinese diplomat and scholar who was a leading figure in the May Fourth Movement, attributed China's vulnerability in facing Japanese aggression to the perceived "Indianization of China."
This sense of superiority remains deeply entrenched in China's outlook to date and was perhaps the reason for its objection to India using the Sanskrit phrase "Vasudhaiva Kutumbakam" in G-20 documents.
Perception of India
China has a paradoxical assessment of India. It considers the latter as inferior and unworthy of becoming a strong regional, let alone a global power. Meanwhile, Indians are derided as "clowns" on Chinese social networking platforms, including Weibo. However, Beijing also views its neighbor as a potential challenger due to India's rapidly growing economy and overall material capabilities. This contradictory evaluation of New Delhi is evident in previous bilateral engagements.
By and large, China is dismissive of Indian sensitivities. For instance, China invaded Vietnam in 1979 just after Indian Foreign Minister Vajpayee visited China. China's incursion into Chumar in Ladakh in 2014 took place just a week before India's Prime Minister Narendra Modi hosted his Chinese counterpart Xi Jinping on his 64th birthday.
China has been reluctant to discuss nuclear weapons with India since its nuclear tests in May 1998 and to recognize India as a nuclear state even though the People's Liberation Army (PLA) has prepared contingency plans for India's nuclear weapons program. It indicates that China is reluctant to recognize the reality of India's nuclear weapons program and accord it the status of a nuclear weapons power. Beijing's cognizance of India's rising international status and its potential to become an economic alternative to China has deepened its resolve to keep India's rise at bay, including through frequent border incursions.
Border Dispute
While previously it was India's Prime Minister Jawaharlal Nehru's indifference toward delineating the disputed border that stood in the way of resolution of the territorial dispute, the reluctance today has transitioned to the Chinese side. The latter is putting off settling the border dispute in the hope that it might get a better bargain later rather than sooner. This view is rooted in the assumption that the power asymmetry with India is likely to increase in the future. Therefore, besides building military infrastructure across the Line of Actual Control (LAC) to give its military the operational edge vis-à-vis the Indian Army, China has repeatedly violated bilateral border pacts, including the 1993 Border Peace and Tranquility Agreement.
The border dispute has gotten more complicated since April 2020, when PLA troops armed with heavy weaponry transgressed into the Indian side of the LAC. After 19 rounds of commander-level talks and multiple high-level contacts, disengagement remains elusive at two friction points in Eastern Ladakh. In Depsang, the PLA has blockaded Indian forces' access to five patrolling points situated on the Indian side of the LAC.
Meanwhile, the Chinese Communist Party (CCP) has shown no interest in the Indian government's demand to restore the status quo ante as of April 2020. Instead, China's Foreign Minster Wang Yi recently stated that both sides should "look beyond" the boundary issue. Adding salt to India's wounds, Beijing's Foreign Ministry spokesperson Wang Wenbin asserted in April 2021 that India should "cherish the hard-won de-escalation of the situation."
China's aggression can be traced to post-Galwan discourse within the country, with a section of the Chinese strategic community advocating Maoist philosophy to settle the border dispute. This philosophy seeks to achieve cooperation using force. Scholars of this school of thought cite the 1962 Sino-Indian border war as an example that brought long-lasting peace for China. The support for a confrontational approach is drawn from the belief that India's growing international stature might nudge it to become more assertive on bilateral issues.
Given the overall Chinese orientation toward India, it seems that it has little respect for maintaining status-quo at the border, or for India's sensitivities.
Tibet Factor
Chinese belligerence at its border with India should be viewed in conjunction with the Tibet factor, given the Chinese condition for resolving the territorial dispute rests on the situation in Tibet being firmly under its political control. Tibet represents a case of a security dilemma for the Chinese, as they view the Dalai Lama as a "separatist" who has been hosted by India since he escaped in 1959, after the PLA's occupation of the territory. The Dalai Lama's demand for Tibet's autonomy is considered secessionist within the CCP.
To erode Tibetan cultural identity, China is seeking to control the succession process of the Dalai Lama by appointing its own amenable Lama. China's regulation on Tibetan Buddhism states that reincarnations of "living Buddhas" who do not have government approval are "illegal or invalid." This goes against traditional Tibetan practice.
If the Dalai Lama were to die while still being a refugee in India, which is likely the case, then naturally his reincarnation would be born in India. In that case, China could not only deem the Dalai Lama's appointed successor in India as "invalid" but also it would demand that India hand over the successor since Beijing's new policy directives are aimed toward the systemic elimination of Tibetan identity and appropriation of the community. This possible scenario could be a real dilemma for India. China is already resentful of India's Tibet policy, which has seen India host the Tibetan government-in-exile and active "Free Tibet" campaigning in India, complicating the bilateral ties.
Role of the United States
Although China's perception of India's ties with the West has served as an irritant in bilateral ties post-World War II, the U.S. factor in contributing to sustained Sino-Indian tensions is much larger today. China believes that Washington plans to use India to threaten its interests, fearing an emerging Indo-U.S. alliance as part of the American Indo-Pacific Strategy. This thinking has become entrenched since the revival of Quad in 2017 and more so in the aftermath of the Galwan clash of June 2020. Beijing remains apprehensive of growing India-U.S. bonhomie, viewing the defense partnership between the two as a security challenge.
In its report to the U.S. Congress in November 2022, the Pentagon stated that throughout the Galwan standoff, China sought to downplay the gravity of the crisis to avert border tensions from nudging India to partner more robustly with Washington. In fact, Chinese officials even warned their American counterparts "not to interfere" with Beijing's ties with India. This sentiment in China gained ground in the wake of the Galwan faceoff, as it has been followed by increased India-U.S. security cooperation.
To aid India's efforts in tackling China's border aggression, the United States has not only shared unprecedented levels of real-time intelligence and surveillance equipment but also conducted joint military exercises with India just about 100 kilometers from the contested boundary, irking China again. Beijing believes that U.S. defense support to India would only serve to make the border issue "more complicated" and worsen Sino-Indian relations.
Conclusion
Notwithstanding deep economic interlinkages, and convergences on global issues, Sino-Indian relations have been conflict ridden. With huge power asymmetry, common geography, strategic divergences, and growing Chinese aggression, ties seem to be headed down a slippery slope.
As China embarks on the era of "new great struggle" to realize the dream of "national rejuvenation," India faces a dual domain threat as military modernization remains among the primary objectives of the leadership, under which its naval presence in Indian Ocean has steadily grown. This calls for reinvigoration in India's multipronged strategy: maintaining robust military posture at the border, while engaging in backchannel diplomacy along with external balancing with like-minded partners, including on the maritime front in the South China Sea.