The American Stake in Myanmar and Sri Lanka
Reformers in both countries deserve the continued support of the United States.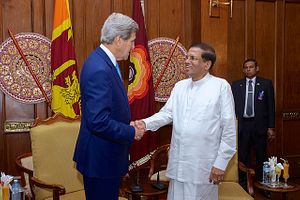 Although many Americans would have a hard time finding Sri Lanka or Myanmar on a map, these two Asian countries are in the midst of major political transformations with important and uncertain outcomes.
Sri Lanka's parliamentary election on August 17 will determine whether the reforms of President Maithripala Sirisena, himself elected to the surprise of most observers in January, will continue. Myanmar's parliamentary elections three months later on November 8 may well bring Aung San Suu Kyi's party to power and will determine whether the transition away from a military dictatorship remains on track.
Election outcomes in both countries are important for the region and the world. In a rapidly developing region, both are becoming key transportation hubs for South and Southeast Asia. Coming out of political isolation, both represent profitable investment opportunities; their annual GDP growth rates are over 6 percent. Probably most important, both have chosen democracy and open markets for their futures, at a time when authoritarianism and centralized economic systems are claiming superiority.
In Sri Lanka, the two contending sides contrast starkly. Mahinda Rajapaksa was president for 10 years. In 2009, his forces finally crushed the prolonged and vicious Tamil insurgency. The brutal final stages of the government victory, in which thousands died, were never acknowledged or investigated. Subsequently Rajapaksa usurped more and more power into the office of the presidency, did little to reconcile the defeated Tamil minority, and allowed his family to profit handsomely from their government connections, while his security forces harassed, attacked, and sometimes killed critics.
Trying for a third presidential term, Rajapaksa was voted out of office in January of this year in favor of Sirisena, who quickly reversed many of his predecessor's actions, restoring a democratic balance of power in the country. Sirisena has now called a parliamentary election seeking a mandate to continue reforms. Rajapaksa and his supporters are attacking Sirisena and his policies and seeking to return to power to continue their authoritarian and divisive policies.
In Myanmar the contrasts are not as black and white. The long-time military dictatorship decided – on its own – to move to democracy in a gradual and controlled manner. In 2010, the regime released Aung San Suu Kyi from house arrest; many generals, led by Thein Sein who became president, exchanged their uniforms to serve as government ministers and politicians.
The upcoming election will be contested by the military-dominated ruling party, the main opposition party headed by Aung San Suu Kyi, and others representing the country's many ethnic minorities, with whom the government is on the verge of negotiating a cease-fire following sixty years of civil war. The opposition parties will almost certainly win a majority of seats in the parliament. There seems little possibility that Myanmar will go back to a military dictatorship. The pace and ultimate extent of democratic reform are the key questions. The military leadership understandably wants to maintain stability, but stability provides a convenient excuse for dragging out or obstructing transfers of power. Ultimately the armed forces will have to relinquish their entitled seats in the legislature and their commercial interests, and assume a subordinate role to an elected democratic government.
Domestic forces will determine the future of both Sri Lanka and Myanmar. Most important will be the results of the elections themselves, both of which appear on course to produce reliable results based on largely free and fair processes. The subsequent maneuvers and agreements of the leaders of the various factions will play the critical role in the shape and speed of the next phase of democratic reform in both countries.
Other countries will influence the near and long-term future of both Myanmar and Sri Lanka. China in recent years has piled into both with highly visible economic projects and military initiatives – submarines visiting Sri Lanka and arms sales and training missions in Myanmar. Economic largesse is generally welcome, but both countries have put major Chinese projects on hold, mistrusting Beijing's influence and intentions, as well as China's identification with the previous authoritarian regimes.
Unlike the United States, Japan did not impose sanctions on either country, but has steadily and for years funded both infrastructure and training projects. Japan supports democratic progress, but believes that long-term assistance without explicit conditionality or overt pressure is the surest way to achieve it. Japanese assistance has been welcome in both countries, and has made an important contribution to economic development. For example, Japan has about 50 advisors seconded to Myanmar's ministries to help build governance capacity.
What of the United States? Washington has closely followed events in Myanmar, publicly and privately expressed both approval and disapproval of individual moves, and called for further progress. The administration has metered high-level visits, including two by the president, and Congress has cooperated with the administration in suspending a range of sanctions.
The United States has made it clear that further progress in bilateral relations depends on implementation of election results and the achievement of a national ceasefire with the ethnic minorities. The Myanmar government wants full and normal relations with the United States, but achieving them will not be the only, or even the major factor in its policies and actions on democratic reform and ending its long civil war with ethnic minorities.
Attention to Sri Lanka has been less smothering. The United States cooled relations as Rajapaksa's regime became more oppressive, welcomed Sirisena's election, and Secretary of State John Kerry made a visit to Sri Lanka in May. Washington has made it clear that democratic progress must continue, and that there must be accountability for the killings at the end of the civil war for bilateral relations to improve. Sri Lanka wants good relations, with more economic investment. As in the case of Myanmar, however, progress depends more on domestic factors and decisions than it does on outside pressure and incentives.
American policy towards these two countries – jawboning, sanctions manipulation, and the promise of better future relations – has been useful, but probably not decisive in the positive recent developments in either Sri Lanka or Myanmar. Most critical have been the driving inspiration of freedom, economic opportunity, and democratically electing their leaders. Given a chance by recent events, the people of both countries have made their preferences clear. Brave men and women in both countries are taking risks and working hard to achieve them. We who enjoy these gifts already owe them support and encouragement.
Admiral Dennis C. Blair is Chairman and CEO of Sasakawa USA.