The Belt and Road: China's Economic Lifeline?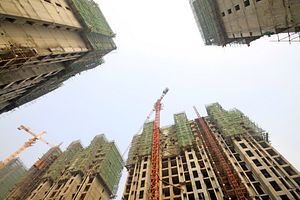 China's Belt and Road initiatives – the Silk Road Economic Belt and Maritime Silk Road – have been discussed largely in terms of the geopolitical implications. What does it mean for China to be increasing its presence and economic clout in regions from Central Asia to the Indian Ocean, the Middle East, and even Europe?
However, for Chinese leaders, the focus is different. Grandiose foreign policy visions aside (although they certainly exist), the major short-term purpose for the Belt and Road is to make sure China's economy keeps humming along – particularly by jump-starting growth in underdeveloped western and central regions.
Recent data highlighted by Xinhua provides optimism about the economic boons of the Belt and Road strategy. Chongqing, a municipality in central China just to the east of Sichuan province, registered 10.7 percent GDP growth in the first six months of 2015. That's the highest growth rate of all of China's provincial-level administrative regions (and far outpacing China's expected GDP growth for the year, which is predicted to be 7 percent or even lower). Xinhua attributed this growth to the increased connectivity that is at the heart of the Belt and Road strategy, citing the example of the Eurasia International Railway that connects Europe to Chongqing via Central Asia. As the only municipality located outside China's eastern coastal regions, Chongqing is in prime position to become the major trading hub for the Silk Road Economic Belt.
But as a separate Xinhua piece pointed out, Chongqing benefits not only from access to overseas markets, but from the increased development of markets within China itself – in its underdeveloped and long-overlooked western regions. For example, Guizhou, one of China's poorest provinces (with over one-fourth of the population living below China's government-defined poverty line as of 2014), experienced a massive investment boom thanks to the Belt and Road. Fixed asset investment in the southwestern province grew by 23 percent year-on-year in the first five months of 2015, "due to an increase of infrastructure development projects," according to Xinhua – and Guizhou isn't even on the list of priority areas for the Belt and Road.
Xinhua concludes that with the "new normal" for China's economy, the county's central and western regions will become the "new engine" for economic growth, thanks to the Belt and Road strategy. As proof of this largely inward focus (at least at the current stage), Xinhua maintained its optimism for the Belt and Road despite noting (in passing) that China's foreign trade for the first six months of 2015 actually dropped 6.9 percent year-on-year, to $1.89 trillion.
As Jiayi Zhou, Karl Halling, and Guoyi Han pointed out in a recent article for The Diplomat, the Belt and Road strategy was initially dreamed up not as a foreign policy initiative, but as a way to prop up China's flagging economy, creating demand for Chinese exports (and lessening the overcapacity issues that have plagued China's economy since the government investments that followed the financial crisis in 2008). The authors express concern that this strategy may effectively delay China's needed economic transformations, by providing an artificial lifeline for the old development model of government investments in manufacturing and infrastructure.
However, Xinhua notes that the future development in China's west and central regions will not follow old patterns, but rather attempt to leapfrog them by aiming at the higher standards of the "Made in China 2025" plan.  This vision seeks to have China morph from the "world's factory" to an actual "world manufacturing power," complete with innovative products and manufacturing processes. Xinhua sees this plan's impact in an increased emphasis on efficiency and technology in new factories in China's west. The new development also aims at a move up the value chain, something China's leaders had emphasized as well in their development goals. The Belt and Road will "push China to transform from low-end commodity exports to high-end commodity exports, capital, and technological exports," Bank of China International CEO Li Tong told Xinhua.
The Belt and Road, then, has just as much (if not more) to do with China's domestic economic goals as it does with grand geopolitical visions. Its simultaneously a means for developing China's inland regions, even while ensuring their growth is efficient and technologically focused, giving China a boost in its bid to move up the global value chain. Whether these goals can actually be accomplished is another story entirely — even Xinhua notes that transformation is a difficult prospect.