70 Years After the Second World War: Memory, Justice, and Regional Order in Asia
The Diplomat's editors discuss historical issues in Asia for a special podcast ahead of the Abe statement.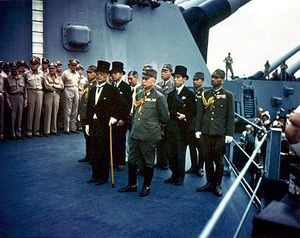 The Diplomat's Ankit Panda, Shannon Tiezzi, Franz-Stefan Gady, Katie Putz, and Prashanth Parameswaran discuss the importance of history in Asian geopolitics and, specifically, regional tensions surrounding the 70th anniversary of the end of the Second World War in Asia.
As mentioned on the podcast, find the August 2015 issue of our magazine, focused on war history in Asia, on the Apple App Store, Google Play, and Amazon. You can read our ongoing series on the Abe statement here.
Click the arrow to the right to listen. If you're an iOS or Mac user, you can also subscribe to The Diplomat's Asia Geopolitics podcast on iTunes here. If you use Android, you can subscribe on TuneIn here. If you like the podcast and have suggestions for content, please leave a review and rating on iTunes and TuneIn.