A Creative Vision for Tomorrow's Pakistan: A Conversation with Adnan Malik
The Diplomat speaks with Adnan Malik about Pakistan's entertainment industry.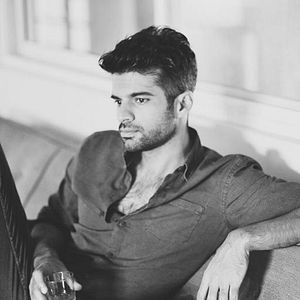 Pakistan's entertainment industry is undergoing a revival with big budget movies like Bin Roye and Wrong No doing exceptionally well at the box office. Pakistani celebrities and singers have been crossing the borders for better opportunities but there are many who believe the Pakistani entertainment industry is fast becoming more viable than before. Adnan Malik is one of the believers. Malik wears many creative hats: he's a model turned actor, documentary filmmaker, music video producer, commercial and music video director and a visual story-teller. He is also known for directing Justin Bibi's world cup anthem for Pakistan that gained a lot of popularity and serves as a board member of Citizens Archive of Pakistan.
Malik's success as an actor came with the acclaimed award winning drama serial Sadqay Tumhare that was aired on Hum TV earlier this year. Sadqay Tumhare, an autobiographical account of writer Khalilur Rehman Qamar's life, won Malik the best new sensation award. He has contributed to films such as the Sundance winning 'Why We Fight', and 'A Jihad for Love'. Malik firmly believes that the metamorphosis of Pakistani entertainment industry is generating better opportunities and opening doors for local pool of talent.
Zareen Muzaffar spoke to Adnan Malik about his various creative endeavors and his vision for Pakistani entertainment industry.
Please tell us about yourself.
I studied film-making at Vassar College in New York and minored in Public Economics. In my final year I directed a documentary called Bijli, a story about a Muslim transgender that won an award at the Kara Film Festival and Delhi Digital Film Festival. I also directed 'Bhuli Hui Hoon Dastaan,' the first feature length documentary on the demise of Pakistani cinema culture. The documentary is part of curriculums in TV & film universities across the country. I also started my own T-shirt company in New York called Urban Turban but after living and working abroad for couple of years I decided to head back to Pakistan. I run my own boutique production company called AMP under whose banner I have directed various commercials and documentaries.
You want to be known as a visual story-teller, director and producer. What made you take the leap and sign Sadqay Tumhare as an actor?
I had extensive experience producing and directing commercials and directed Coke Studio, a renowned platform for music in Pakistan, for about 5 years as well. I felt I was competent enough in my career to try acting. I signed Momina Duraid's Sadqay Tumhare because it was a dream character and it would've been stupid to say no. Mahira Khan has always been a good friend and we had an organic chemistry which made it easy for us to work together. I had to prepare a lot though. The script was in Urdu and Khalilur Rehman Qamar doesn't allow any changes to the script. We couldn't improvise at all. He writes in a rhythm, a meter, so you have to catch on and express it the same way. It was a brilliant script with all the right values in it. When I read the story, the spirit of it completely jumped out at me. I felt I could invest in it.
What was the transition like from being a director to an actor?
It's much more natural for me to be behind the camera because I have studied film-making. I think there's a lot of self consciousness when you are in front of the camera as an actor whereas as a director you are using your mind your craft from behind the camera. I had to deal with and work on shedding self consciousness and face the camera comfortably. I did theater in the past and it's very different than doing serials. Theater is organic, it has a natural arc, like life. Television is very abstract.
What are you views on the current drama serials being aired on television in Pakistan?
Drawing room dramas are not that interesting and they lack a value system. There are some nuanced female stories coming out but they are not that strong. I feel being a TV star and a film star is very different. In films characters are larger than life, there's a distance between them and the audience. But in TV serials , the characters are in your home week after week, many times a day, there's a different kind of intimacy with them. They can influence the national narrative because in Pakistan, TV is more influential as opposed to film. Hence, I want to see a woman's role fleshed out a little more. Ultimately Sadqay Tumhare was a family drama as well but I felt there was a lot of humanistic value in it. It was well thought out. I would like to see more progressive values, more complicated yet honest stories targeting complex social issues.
I also think our business model isn't in place but we are in a transition and trying to figure things out. The films that are being made right now will help the future film makers. It's an exciting time; we are figuring out our cinematic voice.
Do you think Pakistani media is undergoing a transition? What has brought about this change?
Yes, and with the liberal media policies, it has became more viable for young people to join the industry. Television departments in universities are better able to assist ambitious learners with the right tools. Television is really the genesis of the transformation and radio also. Our generation has the added advantage because of the digital revolution whereas back in the day there were very few channels and no accessibility to online platforms.
You run a production company AMP, tell us about it.
AMP is a boutique production house where the main focus is creating TV commercials and music videos. I enjoy the medium because you get to work with bigger budgets and best creative heads in the country. It's getting more and more innovative and I want to continue doing work that's at par with international standards and narratively interesting. The next stage is to start working on the longer narrative, hopefully by working on feature films.
What are your future plans?
I'm focusing on directing and producing television commercials and plan to do three acting projects in a year. I haven't signed on a new serial yet but I plan to do an acting project before the end of this year. I want to work on projects that have a good value system. That's the vision I am working towards: a vision to create narrative with humanistic values.
The interview has been edited for clarity.