An Independent News Site for Myanmar
Myanmar Now launches to provide features, analysis, and investigative pieces.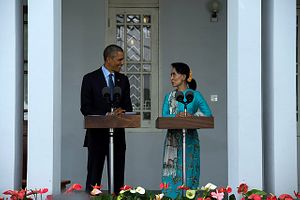 Myanmar Now launched at the beginning of August as a free bilingual news site covering life in the country, and the upcoming elections. Staffed by, among others, ex-Irrawaddy reporters it's funded by the Thomson Reuters Foundation. Chief Correspondent and former Thomson Reuters humanitarian reporter Thin Lei Win spoke to The Diplomat about the unique challenges of setting up a new news site within Myanmar.
In setting up Myanmar Now, what sort of challenges would you say have been specific to Myanmar?
Finding an office that's reasonably priced downtown, because prices have gone up in the last few years. Human resources has been [another] one. There are a lot of good, passionate journalists out there. Journalism training is an integral part of the work that the Foundation does, so we wanted to train up young journalists, but we also wanted those who at least were able to speak and write in English. And that was not easy.
Also, a lot of the journalists have been used to doing breaking news and day-to-day stuff, whereas our approach is slightly different in that we are giving the journalists more time to do enterprise reporting – longer features, analysis, and investigative pieces.
Getting a media license was a fairly straightforward process that took between two to three weeks. We first had to register it as a company, however, and the whole idea was to have a fully local organization so we registered it as a Myanmar company.
How long did the entire process take?
The idea of Myanmar Now came about last year. The Thomson Reuters Foundation wanted to support independent journalism and offer in-depth coverage of Myanmar's ongoing reforms ahead of the general elections in November. I've been working as a Southeast and East Asia correspondent for the Foundation based in Bangkok, but I got seconded and moved back to Myanmar in February.
I was very lucky to have two experienced journalists who came on board almost immediately and worked with me to find the right office space and team members, as well as helping me to understand the lay of the land. We were ready to go around May but we had to wait to launch due to multiple reasons, including waiting till we got a media license and for our website to be ready.
What are the medium- to longer term plans?
Our approach to what Myanmar Now covers will remain the same for the medium- to longer term. We will continue to focus on features, in-depth analysis, and investigative pieces on things related to Myanmar, but with an emphasis on reforms and the elections. This and 2016 are important years for the country with a historic election coming up, ceasefire negotiations continuing, and a possible new government next year.
With regards to the team, we would like to build a strong network of contacts across the country. We are also currently looking at having fellowships. If we could find external funding, the fellowships would be for journalists in ethnic media. We are currently talking to a couple of them where we can have journalists from ethnic media outlets embedded with us for a couple of months so we can mentor them on writing long form stories that would run in their own outlets. All this is part of the media development plans from Thomson Reuters Foundation.
Your background as a Burmese citizen must be especially useful, but do you think your years of humanitarian reporting have helped, or is that tangential?
I do think having had the experience in regional reporting, in addition to covering humanitarian topics, has been a great help as it allows me to draw on my experiences covering similar topics and situations in other countries in Southeast Asia. And yes, being born and raised in Burma helps a lot.
What are your demographics and hits like at this point?
Initial results (of a week) we have seen shows a good chunk of the hits come from within the country and also Thailand. And of course the U.S. and U.K.
What are younger Burmese interested in today? Are they more interested in transparency, accountability and the like?
To be honest I think Burmese people have always been aware of the need for things like transparency and justice, precisely because the country has had neither for a very long time. I find it very difficult to generalize when it comes to the younger people in my country though. Since I've come back I've met many who are not interested in politics and do not care [about anything] beyond where they can party or whether they can carry the latest mobile phones. I've also met many others who are enthusiastic, passionate and eager to participate in the county's changes because they see an opportunity to contribute. I guess it's a long-winded way of saying youths in Myanmar are like youths elsewhere – some are apathetic, others are genuinely interested in the country's future.