A Small Chinese Experiment With Large Environmental Implications
Behind the headlines, local efforts are trying to find workable solutions to China's environmental woes.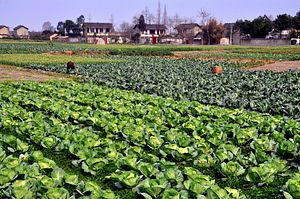 China's environment is often understood as a mass of dramatic statistics, events, and photos. There are the negative numbers: 19 percent of China's farmland is contaminated; 1.6 million Chinese die annually from air pollution-related diseases; and 28,000 rivers have simply disappeared over the past several decades. And there are the positive ones: China has established seven carbon trading centers; in 74 cities concentrations of PM 2.5 dropped by an average of 11 percent in 2014; and China is the world's leading investor in clean energy. There is also a constant stream of media reporting on environmental disasters, such as the recent Tianjin chemical storage plant explosion or pigs floating down a river or red tides consuming coastal waters, that provides us with a far more visceral sense of the unprecedented challenges the Chinese people confront. And, of course, there are the politics and corruption that cannot be seen but are a driving force behind much of what goes wrong in China's environmental protection effort today.
All of these things matter in understanding the reality of China's environmental challenge today. However, what we are missing with these bold headlines is how things are changing quietly and continuously on the ground—the painstaking efforts involved in actually developing workable solutions to each of China's many environmental challenges.
Zhang Xuehua, an environmental policy professor and member of an environmental non-governmental organization, Chengdu Urban Rivers Association (CURA), has been working with her colleagues for almost a decade to develop a resource-efficient village eco-system that addresses the issues of water and soil contamination that result from rural household and animal waste, as well as from the use of fertilizers and pesticides in agriculture. The CURA team, in close consultation with villagers in Anlong Village (located outside of Chengdu, Sichuan Province), developed a pilot sustainable rural development project over eight years that reduced agricultural non-point source pollution by eliminating the use of chemical fertilizer and pesticide, allowed for green, organic farming (which yields produce that sells at as much as 30 percent above non-organic produce), and improved the health prospects of the villagers. Over the years, the project has built partnerships with domestic research institutes, local governments, and domestic and international NGOs.
The building blocks of the Anlong model village include closed cycle eco-households, ecological farming, community supported agriculture, and rural environmental education. Most of the improvement has arisen as a result of the implementation of closed cycle eco-households (see the illustration above). Participating villagers use manure digesters, in which human and animal waste becomes organic fertilizer and provides clean energy for rural families, urine diverting toilets that turn human waste into safe organic fertilizer and conserve water, and courtyard constructed wetlands that treat household wastewater and recycled water for irrigation. Villagers can use the sewage discharge (in conjunction with biogas) and organic fertilizer to cultivate their agricultural plots. They also have adopted ecological farming practices that include bio-diverse crop rotation and a three-year transition period. As of 2014, the project completed an eco-infrastructure that serves nearly 200 rural households, constructed a centralized wastewater treatment system for 40 households, established a township-wide environmental education center, and conducted a series of ecological farming training workshops. Moreover, one village family is now earning as much as 150,000 yuan (over $23,000) annually from selling their organic produce.
China is filled with such experiments. Some work and some fail. But for those that work, there remains the challenge of ensuring that the lessons can be shared beyond the initial experimentation site. Professor Zhang and her colleagues are already in the midst of pushing forward with a larger-scale project that will bring the same environmental, economic, and health benefits to a greater number of peri-urban and rural Chinese.
To understand the reality of China's environmental protection effort means looking from the ground up. This is particularly important in rural areas where the process of urbanization is posing enormous environmental and lifestyle challenges. The Anlong model village may end up being the trigger for an entire revolution in organic farming and coordinated pollution control, but we will have missed it if all we see are the grand central policies and big numbers generated by government officials and the media.
Elizabeth Economy is C.V. Starr senior fellow and director for Asia studies at the Council on Foreign Relations.
Zhang Xuehua is a Professor of Environmental and Climate Policy at the Institute of New Energy and Low Carbon Technology, Sichuan University as well as a member of the Chengdu Urban Rivers Association. If you are interested in learning more about the work of the Chengdu Urban Rivers Association, please contact Dr. Zhang at xuehua0424 [at] gmail.com