China to Showcase Never-Before-Seen Weapons and Equipment in Military Parade
China will display never-before-seen indigenous tech from all branches of its military.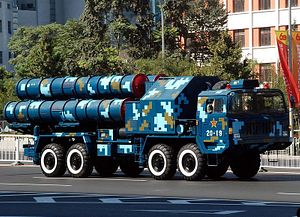 China's military parade to commemorate the 70th anniversary of Japan's surrender to end World War II is rapidly approaching, and new details are emerging every day. In addition to the question of who will be marching in the parade – 10 countries, including Russia, Mongolia, Kyrgyzstan, Tajikistan, and Kazakhstan, will send troops to participate – the big question is what military technology will China display to the world on September 3.
On August 21, a Chinese military officer provided some details on that front. According to Qu Rui, deputy chief of the Operations Department of the General Staff Headquarters (and deputy director of the Office of the Parade Leading Team), 84 percent of the arms that will be displayed in the parade will be in their first public showcase. Qu said that all branches of the military – the People's Liberation Army, Navy, Air Force and Second Artillery Corps, plus the People's Armed Police – will debut new equipment, all of which is indigenously produced.
Qu said the parade would include 12,000 troops, 500 pieces of equipment, and almost 200 aircraft. According to another military official, Wang Shun, all of the armaments in the parade are currently in active service.
The weapons and equipment to be displayed in the parade "represent the new development, achievement and image of the building of China's armed forces," Qu said.
There were no details on which new technologies will be on display, but Xinhua noted that "China has typically unveiled its most advanced weapon systems during military parades, including the debut of Dongfeng 31, an intercontinental ballistic missile, at the 1999 military parade."
At the last military parade, in 2009, China showed off its land-based cruise missiles and unmanned aerial vehicles (UAVs).
Qu did provide a list of the type of arms that will make an appearance in the parade. According to Qu, "ground armament formations will include modules for ground combat, air defense and missile defense, maritime attacks, strategic strikes, communication support, and logistics and armament support."
Meanwhile, "air echelons [will] include air flag guard formations, the leading aircraft echelon, airborne early warning and control (AEWC) aircraft, bombers, fighters, carrier-based aircraft, maritime patrol aircraft, a refueling and receiver echelon, and helicopters."
People's Daily previously posted on social media that the parade would feature the fifth-generation Chengdu J-20 and Shenyang J-31 fighter jets, both of which are already fairly well known to military analysts. Some analysts are hopeful that China's parade might feature an aircraft not yet officially confirmed to be on the production line: the J-18, a carrier-based vertical taking-off and landing stealth fighter jet.
China is also expected to display new missile systems in the parade – possibly the new DF-16 short-ranged ballistic missile, according to rumors on Chinese social media. Xinhua reported that the parade would include "long-range, intermediate-range, and short-range missiles as well as conventional and nuclear missiles." "[T]he scale and number of the missiles will surpass any previous outing," a military source told Xinhua, but again there were no details on specific systems to be displayed.
Qiao Liang, of China's National Defense University, defended the display of China's military might in comments to Xinhua: "There is nothing wrong with flexing our muscles as long as we do it for the right reasons, for instance, self-defense and peace."