India and Seychelles Strengthen Ties Around Maritime Security, Economic Cooperation
India and Seychelles continue to develop the foundations for an enduring partnership in the Indian Ocean.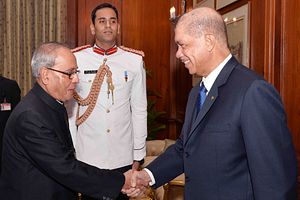 India's relationship with the Seychelles, a small Indian Ocean island state northeast of Madagascar with a population of around 90,000, is expanding. President James Michel of Seychelles was in India for a three day state visit last week that highlighted the growing links between New Delhi and Victoria. Michel last visited New Delhi on state visits in 2010 and 2005.
Michel's visit to New Delhi comes five months after Indian Prime Minister Narendra Modi visited Seychelles on a broader tour of the Indian Ocean region–Modi also visited Sri Lanka and Mauritius. Amid growing perceptions in India that China is laying down a strategic framework around the Indian Ocean, New Delhi is making a new push to seal in its partnerships around the region.
One of the notable outcomes of Michel's visit to New Delhi was the conclusion of an information exchange pact, aimed at curbing tax evasion and promoting cooperation between Indian and Seychellois authorities. The India-Seychelles pact resembles similar agreements between New Delhi and other states known for their attractiveness as off-shore tax havens.
Michel's time in New Delhi also resulted in the conclusion of important agreements on defense and security. New Delhi gifted an interceptor coastguard boat and a Dornier surveillance aircraft during Michel's visit. In 2011, the Indian Navy stationed one Dornier in Seychelles, in addition to a warship and a survey vessel, per a government-to-government agreement, for "exclusive economic zone surveillance and anti-piracy patrols." The Dornier gift to Seychelles comes after Modi oversaw the launch of the MCGS Barracuda, the first India-manufactured warship built for export, in Mauritius back in March.
"We are honored to be a partner in providing aircraft, naval vessels and coastal radar systems for strengthening surveillance capacities. Our cooperation in hydrography surveys is extensive and growing," Modi said. In March, during his visit to Victoria, Modi oversaw the launch of the first of several planned Indian Ocean coastal surveillance radar sites in Seychelles.
Beyond the aircraft transfer, New Delhi and Victoria will also finalized an air services agreement, and will cooperate in space, maritime resource management, weather forecasting, and disaster management.
In strategic terms, Michel was happy to signal that Seychelles would welcome sustained Indian leadership in the Indian Ocean region. The Times of India reports that Michael, speaking in New Delhi around the theme of "Maritime Security for Blue Economy," noted that his country was ready to join an India-led security framework for the Indian Ocean: "Seychelles is actively considering invitation by the Indian government to join the tripartite maritime security framework which encompasses India, Sri Lanka and Maldives."
"We cannot leave it to others to secure our maritime space. The need is more relevant than ever. Today we have with India an exemplary partnership in defence and security sectors. India's determined and proactive action in fight against piracy is highly commendable," Michel continued.
"Blue economy" is a term used by Indian Ocean states to refer to a range of ocean resource management and development programs. It is also the name of Seychelles' sustainable development model. In addition to India, Seychelles has bilateral "blue economy" partnerships with both Australia and Mauritius.
Michel's visit emphasizes Seychelles' close ties to India, but that doesn't mean that the island will be exempt from the brewing strategic rivalry in the Indian Ocean between Beijing and New Delhi. China may be interested in developing "dual-use" supply ports on Seychellois soil to support its growing anti-piracy missions in the Gulf of Aden. However, between Modi's visit earlier this year and Michel's last week, New Delhi currently has the strategic advantage–it doesn't appear that Seychelles will leave India's orbit anytime soon.