Myanmar Floods a Test for Political Leaders
Responses to the natural disaster will set the tone for the November elections.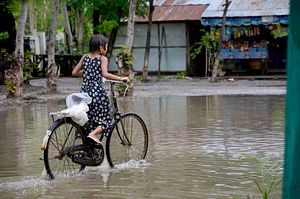 Widespread flooding in Myanmar presents a major test for political leaders ahead of much-anticipated elections. Torrential monsoon rains have claimed more than 100 lives and affected approximately one million of the country's estimated 53 million residents. In many rural communities, the financial and psychological effects of devastation will persist well after waters recede. Responses to the natural disaster will help set the tone for historic polls set for November 8.
Stakes are high for the country's two leading political organizations – the ruling Union Solidarity and Development Party (USDP) and opposition National League for Democracy (NLD) – as they compete head-to-head for seats nationwide for the first time. Effectively the civilian political arm of Myanmar's armed forces, the USDP faces disapproval over an incomplete democratic transition, persistent inequality, allegations of corruption, and simmering tensions between the central government and ethnic minority groups. The NLD must overcome a lack of governing experience and fractious infighting in order garner the wide popular support it claims.
Well-publicized visits by national leaders have underscored the political significance of Myanmar's most recent crisis. Last week President U Thein Sein and the speaker of Myanmar's lower house of parliament, U Shwe Mann, ventured into affected areas. Perhaps intended to dispel memories of Cyclone Nargis, their appearances could bolster USDP credibility with voters. A group led by opposition leader Aung San Suu Kyi toured flooded communities as well.
Critics fault the sitting government for failing to take preventative measures and reacting slowly to the unfolding crisis. Yet the response of President U Thein Sein's administration in recent weeks compares positively with the disastrous handling of Cyclone Nargis, which killed approximately 140,000 in 2008. The then-military regime's inadequate support for victims and its rejection of international aid drew broad criticism and tarnished Naypyitaw's image. This time around, Myanmar's government has mobilized approximately $1.3 million in emergency funds. And in a reversal from previous years, the administration has actively sought international assistance and facilitated the arrival of aid workers to flood-stricken regions. The measures have been met with cautious approbation in local news and social media.
But important outreach efforts by both USDP and NLD remain overshadowed by internal political machinations. Party chairman Shwe Mann and general secretary Maung Maung Thein were unexpectedly ousted from USDP leadership on Wednesday as police surrounded the party's headquarters in Naypyitaw. The opaque shake-up has been interpreted as a "purge" intended to sideline moderate factions and consolidate military influence over the party. It also raises questions over succession; officials have confirmed that President Thein Sein will not seek reelection in 2015 and the influential Shwe Mann was regarded by many as a frontrunner for the job.
The NLD has struggled to remain on-message amid its own leadership squabbles. Aung San Suu Kyi's visit to flooded areas was mostly eclipsed by fresh controversy over the exclusion of well-regarded pro-democracy activists from the party's recently-published candidate list. Protest against the decision led to the dismissal of ten NLD party members on Tuesday. As speculation mounts over the viability of certain NLD candidates, some have asserted that the party remains overly dependent on the charismatic leadership of Aung San Suu Kyi – who remains barred from seeking the presidency by provisions in Myanmar's constitution. Another viable presidential candidate has yet to emerge from the NLD ranks.
Around a dozen smaller ethnic and regional parties likely stand to gain or lose most in districts impacted by monsoon rains. With the USDP and NLD mired in national-level politicking, ethnic groups have an opportunity to demonstrate their responsiveness to local issues. Parties representing Shan, Rakhine, Chin, Mon and other Myanmar ethnic groups collectively account for less than 30 percent of total seats in the current Parliament. But if both the NLD and the USDP-military coalition fall short of a legislative majority – a likely outcome, according to some analysts – this bloc could have considerable influence in shaping Myanmar's next government.
In order to launch successful campaigns, these parties must address the challenges to voter accessibility posed by flooding. Crisis redux will further complicate Myanmar's already chaotic registration process in many districts. Early voter lists have already been fraught with errors, while misinformation about registration and voting processes remains widespread. The Union Election Commission (UEC) has extended voter registration deadlines for an additional week in light of the crisis and pledged to provide documentation to those who lost identity cards in flooding. Still, it remains unclear whether franchisement will be possible for residents in the hardest-hit communities. Sparse voter registration in hard-hit areas such as Rakhine and Chin states might sap ethnic political groups like the Rakhine Nationalities Development Party (RNDP) or Chin Progressive Party of local support.
Preliminary indicators suggest that most citizens remain undecided ahead of November polls. And though intrigue in Naypyitaw and Yangon has momentarily captured the spotlight, flooding continues to impact the lives of hundreds of thousands of citizens across Myanmar. For these voters, responses to the natural disaster will be perhaps the most important test of local candidates' legitimacy and leadership.
Paul Shortell is an analyst focusing on energy and geopolitics, currently based on Myanmar as a Luce Scholar.