Myanmar's Purge a Blow to Reform
Internal purge is a throwback to the era of military rule.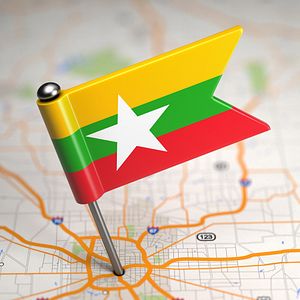 Persistent attempts by Naypyidaw to convince a skeptical world that its attitudes have changed and Myanmar stands ready to join the ranks of democratic nations has taken another self-inflicted blow with an internal purge of the ruling party.
The ousting of Thura Shwe Mann as chairman of the military-backed Union Solidarity and Development Party (USDP) was widely interpreted as an assault by conservatives on its ranks of important reformists.
Shwe Mann, the third most powerful man in the country who remains the speaker in Parliament, was also seen as a key presidential candidate at upcoming elections.
Conservatives were well aware of Shwe Mann's informal relationship with pro-democracy icon Aung San Suu Kyi, whose National League for Democracy (NLD) is threatening to end the military's 53-year grip on power at elections in November.
A constitutional clause will prevent the Nobel laureate from contesting the poll because her two sons hold foreign citizenship. Nevertheless, her party is expected to poll well with many observers tipping an outright NLD victory.
That would only raise Shwe Mann's political stocks. He has the reputation of a good listener and was well liked by the international community and its diplomats seeking to prise Myanmar out of isolation while reforming the political process.
But his record is far from squeaky clean.
"Thura" is a military title meaning "brave hero" which was awarded for his military campaign in 1989 against the Karen National Liberation Army.
It was there that Shwe Mann faced allegations he used women and children as forced civilian porters. Other unsubstantiated claims include he had a hand in the Depayin massacre, which resulted in the deaths of at least 70 NLD supporters.
He was ousted alongside USDP Secretary General Maung Maung Thein after a midnight security cordon was thrown down around USDP headquarters where senior leaders were meeting. Party members were prevented from leaving.
Shwe Mann was replaced by USDP deputy head Htay Oo, an ally of President Thein Sein who took part in the late night meeting with senior party members while soldiers remained on-guard outside. It lasted well into Thursday morning.
Another key Thein Sein supporter, Tin Naing Thein, will replace Maung Maung.
Media reports have focused on rising tensions between Thein Sein and Shwe Mann and their differences over the choice of candidates for the November 8 poll, noting 159 senior officers had retired from their military posts to run as USDP candidates.
Just 59 were accepted.
Importantly, Thein Sein has repeatedly said in recent years that he will not pursue a second term amid speculation over health issues.
However, the Myanmar media is always keen to note that Thein Sein could still be nominated for office because Myanmar's president and two vice presidents are not required to be elected members of parliament.
Ninety parties are contesting the poll, the first since decades of military rule was replaced by a quasi-civilian government at tightly controlled elections in 2010, which formalized the country's name change from Burma to Myanmar. The NLD boycotted the poll.
"This is a real throw back to the way political business used to be done," one veteran Myanmar watcher said. "They've swapped their army uniforms for Armani business suits but they're still running a junta and this is purge of unwanted reformists."
Efforts to deliver real political change for the better have also been hindered by the government's human rights record.
Heavy criticism has followed Myanmar's treatment of its Rohingya people and other ethnic groups. The country is still wracked by internal ethnic and religious conflict with the government failing to deliver on promises to find a lasting peace.
Companies have also been accused of skirting sanctions while "the government has kept a lock on many industries like banking and real estate," according to a recent report by The Wall Street Journal.
Shwe Mann was not in the USDP headquarters when the troops arrived. Instead he was at home and is reportedly 'in good health'.
Luke Hunt can be followed on Twitter @lukeanthonyhunt