Pakistan's Prime Minister May Visit the US in October
Pakistani Prime Minister Nawaz Sharif has been invited to the United States in October.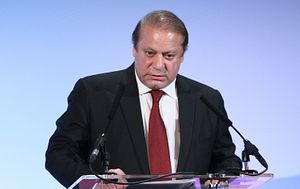 Pakistani Prime Minister Nawaz Sharif has been invited to the United States for a state visit in October. U.S. National Security Adviser Susan Rice announced the invitation via Twitter: "Conveyed @POTUS invitation to PM Sharif to visit the @WhiteHouse in October to continue discussions." Rice was in Pakistan over the weekend, where she met with senior officials, including the prime minister. Rice is in Pakistan with the intention of discussing "mutual interests" and addressing "areas of concern, particularly terrorist and militant attacks emanating from Pakistani soil," according to a senior U.S. official quoted by the Guardian.
Ahead of Rice's visit, Pakistani sources reported that the United States may suspend the next tranche of scheduled military aid under the Coalition Support Fund amid concerns that the Pakistani Army had not adequately disrupted the activities of the Haqqani Network, a designated terrorist organization. As I noted in The Diplomat recently, the suspension of CSF aid could drive a major wedge between the United States and Pakistan, two states enmeshed in an alliance based on shaky foundations.
Beyond the effectiveness of the Pakistani military in thwarting the operational capabilities of the Haqqani Network, the United States is also concerned with the Pakistan's ability and willingness to rein in Taliban militants carrying out attacks against the government in Afghanistan. Recently, after a deadly bombing in Kabul that claimed scores of lives, Afghan President Ashraf Ghani strongly criticized Pakistan. Rice echoed Ghani's sentiments, noting in Islamabad that attacks by Pakistan-based militants across the border were "absolutely unacceptable."
Additionally, given a new period of instability within the Taliban after the group confirmed that its former leader, Mullah Mohammed Omar, had been dead for two years, the ongoing peace process with the Taliban and the Afghan government has been derailed–a development making Pakistan's cooperation on securing the porous border all the more critical.
Rice's meetings with senior Pakistani civilian and military officials could present an opportunity for Rawalpindi to make the case that the U.S. Department of Defense should not withhold certification of Operation Zarb-e-Azb's counter-terror focus. Indeed, a statement from Sharif's office highlighted Rice's comments on Pakistan's counter-terror efforts: "Dr Rice expressed deep appreciation for the sacrifices made by Pakistan in the efforts to root out terrorism and extremism and the success achieved so far."