South Korea Spins North Korea's Non-Apology
South Korea says the North apologized for the landmine incident. But did it?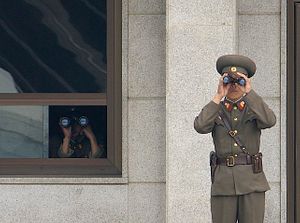 When is an apology not an apology at all? One answer could be when it has emerged out of a marathon bout of diplomacy to resolve a standoff between North and South Korea.
After more than 48 hours of talks with his North Korean counterpart, South Korean National Security Advisor Kim Kwan-jin emerged Tuesday with surprising news: North Korea had apologized for a landmine attack earlier this month that maimed two of the South's soldiers.
Kim's remarks seemed to vindicate a vow made by President Park Geun-hye just hours previously. Park pledged that Seoul would not cease propaganda broadcasts, resumed for the first time in 11 years in retaliation for the landmine incident, without a clear apology from Pyongyang.
Under Tuesday's deal, aimed at easing tensions that spiked after the North fired on the propaganda loudspeakers on Thursday, Seoul matched the apparent admission with an end to the broadcasts. But, in fact, there had never been an apology, much less a clear one. The Seoul government had simply spun a highly ambiguous, noncommittal statement signed off on by Pyongyang. In doing so, both sides were given a chance to save face.
The North did not accept responsibility for the attack, nor did it use the common Korean verb for "sorry." Rather, Pyongyang merely expressed "regret" over the incident.
Nevertheless, Seoul's deft portrayal of the deal managed to fool international media including CNN, The Christian Science Monitor and The Washington Post (the latter of which carried the accurate characterization in later updates.) South Korea's state-funded Yonhap News, meanwhile, falsely claimed that the North had even backed down from its earlier denials of perpetrating the attack.
Absent from much coverage was any indication that Park had conceded her key demand of the North less than a day after publicly announcing it.
Daniel Pinkston, North East Asia Deputy Project Director with the International Crisis Group in Seoul, told The Diplomat that Park's demand for an apology was likely intended for a domestic audience.
"That's what people want to hear, the people in her coalition. Conservatives that support her want to see and hear that kind of demand," Pinkston said.
He said it was unlikely the South would have ever gotten a clear apology, as it would have meant the North "accepting responsibility and accountability" for the incident, while evidence of its culpability is lacking, in his opinion.
Regarding Park's about-face, Pinkston said that "fudging" terms is not uncommon in diplomacy.
"Diplomacy often uses language that can be interpreted slightly different ways for different domestic audiences," he said.