US: North Korea Stands 'No Chance' in Defeating South
In a televised interview U.S. Defense Secretary Ashton Carter restated the obvious when discussing recent tensions.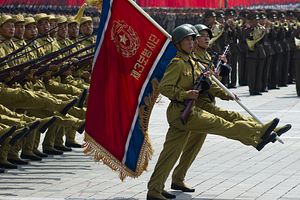 Talking about the most recent tensions on the Korean Peninsula (See: "North Korea Is Mobilizing for War"), U.S. Defense Secretary Ashton Carter emphasized that South Korea and the United States need to be perpetually ready to deter North Korean aggression.
"Korea is one of these places that is a tinder box. It's probably the single place in the world where war could erupt at the snap of our fingers," he told U.S. service members during a Q&A session at Fort George G. Meade in Maryland, according to Defense News. "Job No. 1 is fight tonight, we need to be ready."
Carter was adamant that North Korea's military blustering cannot hide from the fact that it will lose any war with South Korea and the United States: "We need to make sure North Koreans always understand any provocations with them will be dealt with and they stand no chance of defeating us and our allies."
The U.S. defense secretary called North Korea's recent threat of war a "little dustup." "We had a little dustup out there about a week ago," Carter said. "I don't need to tell you about North Korea; to put it mildly, it's an odd place."
Inter-Korean tensions intensified after an incident on August in which two South Korean soldiers were severely injured by a landmine explosion, for which the North has been held responsible by the South. As a consequence of the August mine incident, South Korean propaganda broadcasts into the North resumed after an 11-year hiatus. North and South Korea also exchanged artillery fire across the demilitarized zone.
South Korean President Park Geun-hye ordered the ROK military to immediately retaliate against any North Korean attacks. The North responded in kind and mobilized both land and naval forces (See: "North Korea Is Deploying Largest Submarine Fleet Since Korean War").
In a deal reached after 40 hours of talk at the "truce village" of Panmunjom inside the demilitarized zone, Pyongyang purportedly offered "regrets" over the August 4 incident, while Seoul in turn agreed to turn off loudspeakers that were broadcasting propaganda into the North. However, as John Power writing for The Diplomat noted:
 [I]n fact, there had never been an apology, much less a clear one. The Seoul government had simply spun a highly ambiguous, noncommittal statement signed off on by Pyongyang. In doing so, both sides were given a chance to save face.  The North did not accept responsibility for the attack, nor did it use the common Korean verb for "sorry." Rather, Pyongyang merely expressed "regret" over the incident.
The United States maintains a forward-deployed force of approximately 28,500 servicemen and women on the Korean Peninsula.