Sri Lankan Elections: Rajapaksa Falls Short, Wickremsinghe Surges to Near Majority
In Sri Lanka's parliamentary vote, former president Rajapaksa falls short of a comeback, leaving the incumbent in place.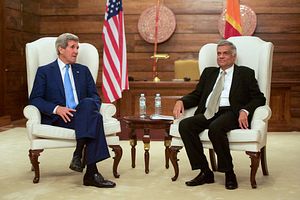 Elections results from Monday's parliamentary elections in Sri Lanka are trickling in from across the country, but, as far as the prime minister's office is concern, the incumbent Ranil Wickremsinghe has edged out the country's former authoritarian-leaning president, Mahinde Rajapaksa, for victory. Ahead of results on Tuesday, Rajapaksa preemptively conceded defeat to Agence France-Presse, noting that his "dream of becoming prime minister [had] faded away."  "I am conceding. We have lost a good fight," he told his supporters.
As per the nearly complete results (18 of 22 districts have reported as of this writing), the center-right United National Party-led (UNP) United National Front for Good Governance (UNFGG) coalition of parties pulled in the most seats across the country, taking 70 and on track to seal in a total result just shy of the 113-seat majority necessary to control Sri Lanka's 225-seat unicameral legislature. The United People's Freedom Alliance, the party led by the incumbent president, Maithripala Sirisena, who ousted Rajapaksa in a surprise January presidential election result, looks set to control a powerful minority government nonetheless. The Tamil National Alliance, a coalition of minority parties representing the majority Tamil north of the country, took the northern provinces of Jaffna and Vanni.
This election outcome, however, does not represent a loss for Sirisena who, despite leading the opposition coalition, had supported Wickremsinghe, his prime minister, in the elections. As I detailed in my election preview for The Diplomat, Sirisena and Rajapaksa, though once allies, are rivals today. In Sirisena's seven-plus months in office, a reform package had strengthened the office of the prime minister, which would have emboldened Rajapaksa had he successfully attained the prime ministership. Instead, Tuesday's result will be a positive referendum on the reforms pursued by the Sirisena government and in the legislative agenda of the pro-capitalist UNFGG coalition. "I invite all of you to join hands," Wickremesinghe noted in a statement as the counting approached completion. "Let us together build a civilized society, build a consensual government and create a new country," he added.
Geopolitically, the election result will be met with a sigh of relief by many across the Palk Strait in India. Sirisena has pursued a more balanced foreign policy, keeping India in the fold while continuing to do business with China. Under Rajapaksa, relations between Sri Lanka and China grew very close as several lucrative infrastructure contracts were awarded to Chinese firms for port development and other projects. Additionally, Indian Tamil legislators in the country's south opposed strategic cooperation with a Rajapaksa government given perceptions of his government's complicity in wartime atrocities against the country's Tamil population during the decades-long Sri Lankan civil war. Indeed, Tuesday's result could hearken positively for Sri Lanka's ongoing but fragile process of post-Civil War reconciliation. Sirisena and Wickremsinghe have approached the issue sensibly and with more transparency than the former government, and can continue to do so.