Sri Lanka's August Parliamentary Election, Seen Up Close
Do Sri Lankans have confidence in the process and practice of their democracy?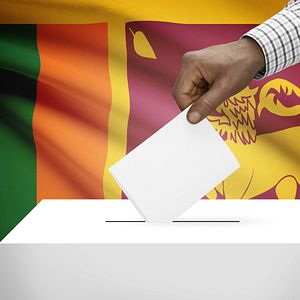 I arrived in Sri Lanka on August 10, a week before the country's August 17 parliamentary election. Our group of short-term international election observers would spend the first few days in Colombo, the capital, before heading out to the locations from which we'd be monitoring the election.
Shortly after my arrival in Colombo, I learned that I would be in Jaffna on voting day. Having spent several years working for a Tamil human rights organization in Sri Lanka, I'm familiar with Jaffna and was really looking forward to heading north.
The country's Northern Province is not considered a top-tier travel destination, although the area is replete with history, culture and memorable people. One cannot fully understand Sri Lanka without spending time there.
I got to Jaffna a few days before the election and spent the last day of the official campaign meeting with a range of people, including most of the key political parties.
Things were surprisingly quiet and virtually everyone I spoke with had confidence in the electoral process, believing that things would go smoothly on the day of the vote.
The night before the election, I hardly slept. I knew I'd have to get up early anyway and this was my first time working as an election observer. I was mostly excited, but I was a little nervous too.
Polls opened at 7 a.m. and so we arrived at our first polling station at around 6.15 a.m.. (I had a driver and a translator accompanying me.)
What I witnessed at that first polling station in Nallur was extremely professional and the senior presiding officer (the person in charge) clearly explained everything that was happening. A couple other polling stations around Jaffna town also impressed me.
Towards the end of the day we headed further away from Jaffna town and, while voting remained orderly, there were a few problems. For example, I witnessed a policeman taking an inordinate and unwarranted interest in how many people had voted. I saw far too many police personnel at another polling station. Later on, I saw a member of the military inside a polling station (which should never happen). One of the most interesting things I learned on August 17 (based only on my own experience that day) is that when people who are not supposed to be at a polling station see an international election observer, it's likely that at least some of those people will eventually leave the premises.
We left Jaffna shortly after the vote and got to Colombo a little before 1.30 a.m.. A debrief held on August 18 was both routine and interesting.
The United National Party (UNP) won the most votes and captured 106 seats in the 225-member parliament. The United People's Freedom Alliance (UPFA) won 95 seats. The Tamil National Alliance (TNA) secured 16 seats. Recently ousted president Mahinda Rajapaksa is now a member of parliament and UNP leader Ranil Wickremesinghe has been sworn in as prime minister.
Now that the results are in the focus turns toward the official establishment of a national government, the formation of a cabinet and the implementation of further reforms.
Going forward, how much will be accomplished? What will come of all the ongoing corruption investigations? Will Tamil issues remain on the back burner? And what will be Colombo's strategy for the upcoming session of the U.N. Human Rights Council?
For now it doesn't look like Rajapaksa will be leaving active politics anytime soon. Let's hope that the country is now able to move beyond the authoritarianism, nepotism, corruption and divisive politics that plagued the former president's tenure.
Taylor Dibbert is a freelance writer based in Washington, D.C. and the author of Fiesta of Sunset: The Peace Corps, Guatemala and a Search for Truth. The views expressed here are his alone. Follow him on Twitter @taylordibbert.