Sri Lanka's 'Accountability' Dilemma
With an important UN Human Rights Council session on the horizon, Colombo's plan for 'accountability' is hotly debated.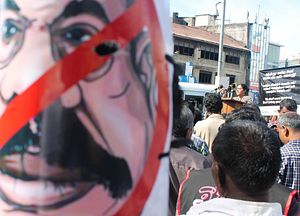 With the opening of the U.N. Human Rights Council's 30th session just days away, many Sri Lanka watchers are waiting to see how Colombo deals with the release of a major U.N. report focused on wartime abuses in Sri Lanka and its plans for handling "accountability" issues domestically. What will Colombo's accountability mechanism actually look like? And is it actually possible for such a mechanism to work properly? What role, if any, will international actors play in such a process?
Sri Lanka's new government has said publicly that they will pursue accountability via domestic means, although (broadly speaking) ethnic Tamils simply do not have faith in a domestic accountability process. The thinking being that for decades the Sinhala-dominated state has created commissions of inquiry or domestic accountability mechanisms, yet genuine justice does not follow and impunity remains institutionalized.
When I was in Colombo last month, the tensions surrounding this debate were palpable. On the one hand, a properly administered transitional justice mechanism needs to be victim-centered, and there can be little doubt that the country's Tamil community has suffered disproportionately as a result of decades of war. On the other hand, most Sri Lankans probably don't want an international mechanism (or even a hybrid mechanism).
Moreover, on the international stage, the U.S. has been out in front in pushing for accountability (among other matters) in post-war Sri Lanka. Recently, the Obama administration has made it clear that it's backing Colombo's domestic process.
Some observers have described Washington's current stance as a complete volte-face, claiming that the U.S. has gone from being a champion of an international mechanism to now willfully accepting a domestic process.
Establishing an international accountability mechanism for Sri Lanka would not be possible without significant and sufficiently broad international support. One prominent way to do so would be through a U.N. Security Council resolution. If something like that were to happen, the U.S. would almost certainly be one of the countries taking the lead. If the U.S. is now backing a domestic process, the prospects for creating an international mechanism look extremely dim.
Washington's quick and wholehearted embrace of the newly elected Sri Lankan government has drawn skepticism, resentment and deep concern from the Tamil community. The recent visit of a pair of Assistant Secretaries of State, Nisha Biswal and Tom Malinowski, seems to have contributed to further polarization within the country.
One of the main issues now is that, paradoxically, the Tamil community's total rejection of any domestic mechanism could weaken their ability to influence that process, particularly as it relates to international advice and the provision of technical assistance.
A recent piece by Colombo-based journalist Kusal Perera has illustrated how hard it will be to create a domestic accountability mechanism in Sri Lanka that's truly impartial and independent. Nevertheless, in spite of the profound challenges ahead, it appears that Colombo will be given a chance to find truth and justice on its own terms – at least for the time being.
Like other issues that have saturated the country's post-war discourse, this is an extremely difficult issue. No matter what happens in the coming weeks, that's not going to change.