US Navy Ships to Move to Vietnam for Asia's Largest Annual Humanitarian Mission
The US-led Pacific Partnership will shift to Vietnam in another nod to deepening bilateral ties.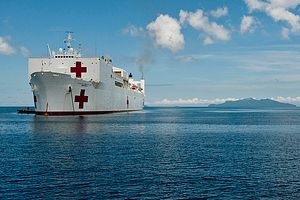 From August 17-28, U.S. Navy ships will be in Vietnam for the annual U.S.-led Pacific Partnership mission, the largest annual multilateral humanitarian assistance and disaster relief preparedness mission conducted in the Indo-Pacific region.
Pacific Partnership, led by the U.S. Navy in partnership with other like-minded countries and non-governmental organizations, sees the combined force visiting several host nations every year and engaging in a variety of local outreach efforts to improve boost capabilities, build relationships and bolster collective ability to respond to natural disasters. It began in 2006 following the December 2004 tsunami that devastated parts of Southeast Asia.
Vietnam is one of the seven host nations on the list for this year's Pacific Partnership in conjunction with the 20th anniversary of the normalization of diplomatic relations between the United States and Vietnam. According to the U.S. Navy, the inclusion is intended to underscore the deepening relationship between both countries, including in the maritime realm. This year marks the sixth time a Pacific Partnership mission has visited Vietnam, with the country also involved last year.
Pacific Partnership 2015 (PP15) features a combined force that includes personnel and assets from Australia, France, Japan, New Zealand, South Korea and Timor-Leste. The hospital ship USNS Mercy is serving as the PP15 primary mission platform, and this will be the first Pacific Partnership mission involving a joint high speed vessel the USNS Millinocket. The 12-day humanitarian mission in Vietnam will see both the USNS Mercy and USNS Millinocket in the central city of Danang.
The highlight of the Vietnam visit is expected to be a free health examination and treatment for city dwellers, with USNS Mercy medical staff performing procedures for burn victims, patients with cardiovascular problems and total joint replacement. But officers aboard the U.S. ships will also take part in other activities as well, including medical workshops and rescue exercises with the Vietnamese Navy.
In addition to Vietnam, the other host nations on the list for Pacific Partnership 2015 include Fiji, Papua New Guinea, Kiribati, Micronesia, Solomon Islands, and the Philippines where a visit kicked off earlier this month. PP15 also features several other distinctions, including the use of a multinational command-and-control structure with the involvement of Australia and New Zealand.
According to the U.S. Navy, Pacific Partnership missions to date have provided real-world medical care to approximately 270,000 patients and veterinary services to more than 38,000 animals, along with more than 180 engineering projects to support critical infrastructure development.