US Pacific Partnership 2018 Moves to Southeast Asia
Asia's largest annual multilateral HADR exercise kicked off this year's iteration of its subregional engagements with a move to Indonesia this week.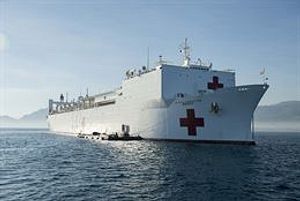 On March 29, this year's iteration of the annual U.S.-led Pacific Partnership, the largest annual multilateral humanitarian assistance and disaster relief preparedness mission in the Asia-Pacific, moved to Southeast Asia beginning with Indonesia. The ongoing exercise has once again put the spotlight on the evolution of U.S. drills in the region as part of its broader defense engagement.
As I have noted before, there are a whole range of U.S. or U.S.-led exercises involving Asia in general and Southeast Asia and particular, from the Cooperation Afloat Readiness and Training (CARAT) exercise to the smaller Southeast Asia Cooperation and Training (SEACAT) exercise. Over the past few years, we have seen Washington and regional partners work on expanding some aspects of these exercises amid changing strategic realities (See: "What Did the Latest US Asia Maritime Security Exercise Achieve?").
Pacific Partnership itself began in 2006 following the December 2004 tsunami that devastated parts of Southeast Asia. Led by the U.S. Navy in partnership with other like-minded countries and non-governmental organizations, it sees the combined force visiting several host nations every year and engaging in a variety of local outreach efforts to improve boost capabilities, build relationships, and bolster collective ability to respond to natural disasters.
The list of countries under the annual Pacific Partnership missions tends to feature a mix of continuity and change depending on the year. This year's Pacific Partnership, which was planned for months culminating in the planning conference in mid-January, was set to feature military and civilian personnel from the United States as well as Canada, the United Kingdom, Australia, France, Peru, and Japan, with mission stops including Micronesia, Sri Lanka, Japan as well as a few Southeast Asian countries such as Indonesia, Malaysia, Thailand, and Vietnam out to June.
Several of the other distinguishing features we have seen in previous years were also set to continue this year, including the utilization of a multinational command-and-control structure (this year with a deputy mission commander from the United Kingdom and a mission chief of staff from Australia) and the highlighting of the role of women in HA/DR efforts in line with the Women Peace and Security Program initiative.
This year's iteration of Pacific Partnership officially got underway in February, with the USNS Mercy departing the home port of San Diego on February 23, where it, along with the expeditionary fast transport ship USNS Fall River, would make separate mission stops as is usually the case.
On March 28, the U.S. Navy officially announced that Pacific Partnership was moving to Indonesia. The exercise activities in Bengkulu, Indonesia, which will last through April 12, will include civil engineering projects, conducting humanitarian assistance and disaster relief (HA/DR) readiness drills, and partnering in community outreach engagements in the local Bengkulu community.
But of the various Southeast Asian stops, the one that has grabbed the most headlines thus far has been the Vietnam one. That is no surprise. As I have been noting in these pages, the high level of activity in U.S.-Vietnam defense ties, with some historic moves including the recent visit of a U.S. aircraft carrier there, have focused more attention to naval interactions tied to the bilateral relationship (See: "Why a First US Aircraft Carrier Vietnam Visit Matters").