What Does Indonesia's Cabinet Reshuffle Mean?
A look at who's in, who's out, and why it matters.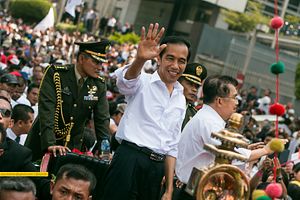 On Wednesday, Indonesia's president Joko "Jokowi" Widodo announced a major cabinet reshuffle just ten months after taking office.
The move is far from surprising. The cabinet shakeup was long expected following Indonesia's anemic economic performance which has seen Southeast Asia's largest economy grow at just 4.7 percent in the second quarter, its slowest pace in nearly six years.
The reshuffle, which involved some key economic positions, reflects the balance Jokowi has chosen to strike between appointing technocrats to some portfolios to send positive signals about the future direction of economic policy and appeasing key figures within his own party.
On the one hand, Jokowi's appointment of two technocrats has been seen as a positive move.  First, Darmin Nasution, a former central bank governor and tax office head, was chosen to replace Sofyan Djalil as chief economic minister. Nasution is viewed as highly competent and brings an understanding of both monetary and fiscal policy to the table, which could potentially pave the way for greater policy coordination. Some have also said that the move will also reduce Vice President Jusuf Kalla's involvement in economic policy, as Djalil – who has now been moved to the National Development Planning Agency – had strong links with Kalla who had disagreements with Jokowi over economic policy.
Second, Tom Lembong, a Harvard-educated investment banker, was selected to replace Rachmat Gobel as trade minister. Lembong is known for his involvement in restructuring Indonesia's banking sector following the Asian Financial Crisis in the late 1990s. According to Douglas Ramage, a Jakarta-based analyst, the decision to award Lembong the trade portfolio was in part designed as a "corrective measure" to counter rising negative perceptions of Indonesia's protectionist trade policies.
On the other hand, several of the other appointments have been read as attempts to appease Jokowi's party, the Indonesian Democratic Party of Struggle (PDI-P), particularly its chief Megawati Sukarnoputri. Pramono Anung, the party's former secretary general, was selected as cabinet secretary a move designed to give the party greater access to Jokowi. Rizal Ramli, appointed the new Coordinating Minister for Maritime Affairs – a new ministry Jokowi created as part of his global maritime fulcrum – is also believed to be close to Megawati. He replaces Indroyono Soesilo in that role.
Meanwhile, in an unsurprising move, Luhut Panjaitain, Jokowi's chief of staff and regarded as one of his closest advisers, was also selected to head the Coordinating Ministry for Political, Legal and Security Affairs. He replaces Tedjo Edhy Purdijatno who has been dropped from the cabinet.
Of course, it remains to be seen whether these new personalities can actually improve Indonesia's economic performance and boost Jokowi's own sagging popularity. Personnel shuffles will need to be accompanied by policy shifts as well as better execution, coordination and empowerment. And in any case, outcomes will be determined not only by Indonesia, but the world more broadly.