When the US and China Were Allies
70 years ago, the U.S. was full of pro-Chinese propaganda, encouraging friendship with a wartime ally.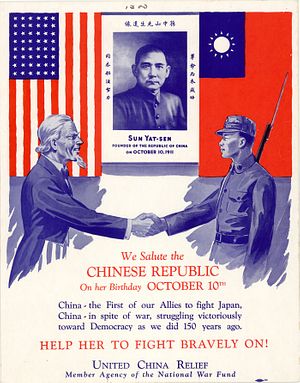 Today, many observers believe the U.S.-China relationship is at one of its lowest points since the normalization of ties in 1979. Growing tensions over cyber issues and the South China Sea are already threatening to overshadow a long-planned visit by Chinese President Xi Jinping to the United States in September of this year.
But the U.S.-China relationship used to be far different. As the world commemorates the 70th anniversary of the end of World War II, let's also take a look back at the U.S.-China alliance during the war period – and, particularly, how China was portrayed as a friend and ally in popular discourse in America.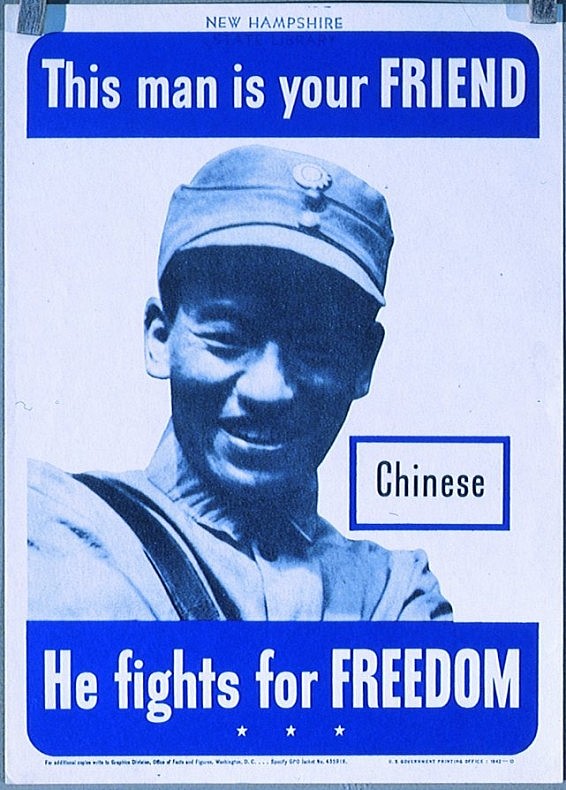 Early on, U.S. aid to China was limited to diplomatic pronouncements opposing Japan's invasion of China. In 1940, Washington went a step further — Roosevelt approved credits to the Chinese government that would be used to purchase war supplies. After Japan signed its Tripartite Pact with Germany and Italy in September 1940, the U.S. instituted a full embargo on Japan. Negotiations with Japan in 1940 and 1941 made little headway, in part because public sentiment (including among U.S. officials) demanded a full Japanese military withdrawal from China. After the Pearl Harbor bombing in December 1941, the United States declared war on the Japan and further strengthened its political and military ties with China.
At around the same time, pro-China propaganda efforts ramped up in the United States. Frank Capra's famous film series, Why We Fight, included an hour-long installment devoted to the "Battle of China," which decried Japanese atrocities and glorified the Chinese resistance. The film frames its narrative around the opening question: "Why are these innocent Chinese men, women, and children to die underneath a hail of Japanese bombs?"
Meanwhile, Time magazine (whose founder, Henry Luce, had grown up in China and was friends with China's leader, Chiang Kai-shek) made sure readers were aware of China's plight. Chiang appeared on the cover of Time magazine in 1938 and again in 1942, reminding American readers of the hardships of war China was enduring. He and his wife, Soong Mei-ling (often simply called Madame Chiang), were named Time's "International Man & Wife of the Year" for 1937 for their resistance to Japanese occupation.
The American-educated Soong in particular became a passionate defender of China's cause before U.S. audiences. In 1943, she delivered an address before a joint session of Congress, becoming the first Chinese person (and the second woman of any nationality) to do to. She reminded her audience that by February 1943, a little over a year after the United States joined the war, China had "bled and borne unflinchingly the burden of war for more than five and a half years." She spoke of "our united effort to free mankind from brutality and violence," sentiments echoed today when leaders in Beijing speak of China's role in the "World Anti-Fascist War."
In particular, though, Soong tried to convince Americans that Japan was as great a threat as Germany:
Let us not forget that Japan in her occupied areas today has greater resources at her command than Germany. Let us not forget that the longer Japan is left in undisputed possession of these resources, the stronger she must become. Each passing day takes more toll in lives of both Americans and Chinese.
This narrative of unity between Americans and Chinese also became the focus of a charity drive, spearheaded by United China Relief. Founded in 1941, United China Relief combined pre-existing groups dedicated to raising funds for war-torn China. The group went beyond mere fund-raising, however, to conduct its own information campaign, seeking to spread awareness of China's plight through emotional appeals in both films and posters.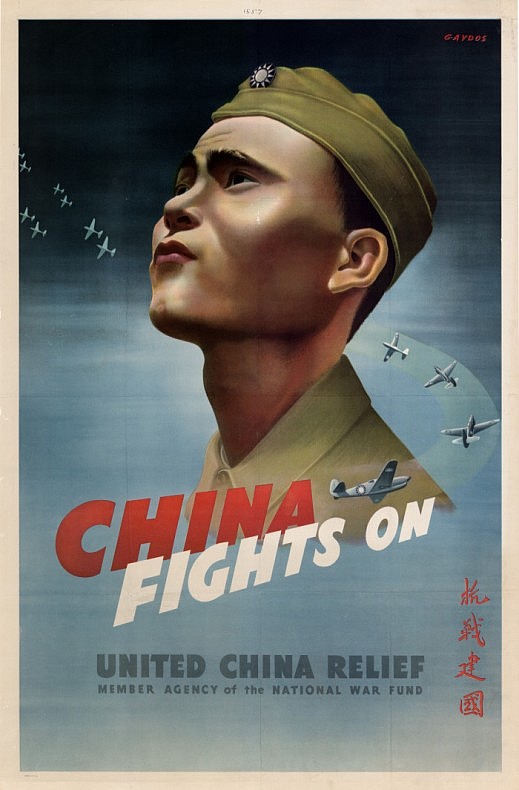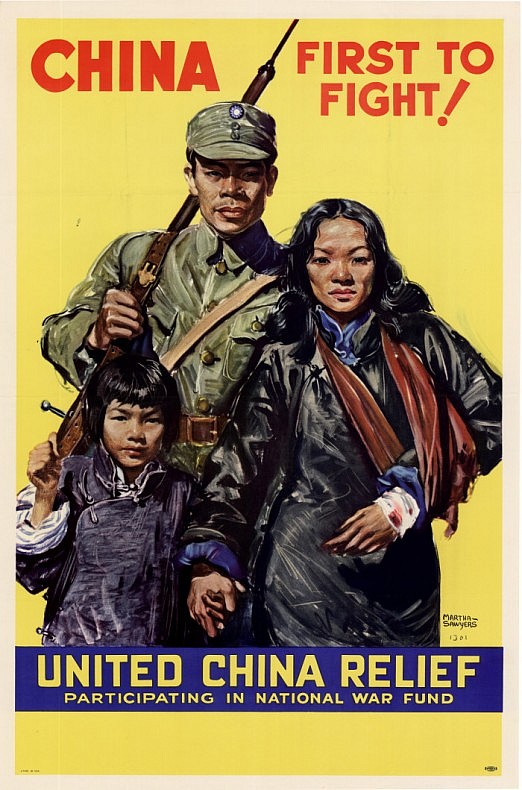 One such documentary on China, produced in 1944 by United China Relief, Inc., introduces Americans to their faraway allies: "China once seemed almost as remote as the moon to us here in America… [But] our common struggle has brought its people close to our hearts. Today our soldiers and theirs fight together on many battlefields."
A 1941 United China Relief documentary contains an intriguing quote from Pearl S. Buck, an American who grew up in China and set her novels in the country. "I believe that China is at this very moment a pivot nation," Buck said. "Who has her friendship will rule the future; who loses it will be lost."
Strangely, the United States sided with China to win the war – but still lost "her friendship" thanks to the Communist victory in the Civil War (and U.S. support for the opposing Nationalists). Throughout the 1940s, Americans were strongly encouraged to view China as a friend and ally, worthy of both support and sympathy. After 1949, China became the enemy, a communist nation affiliated with the Soviet Union (another World War II ally turned Cold War antagonist). China and the United States fought each other in the Korean War and turned their propaganda machines against each other.
Meanwhile, the strong sense of sympathy and friendship the U.S. and China enjoyed during World War II effectively followed Chiang to Taiwan in 1949. Even now, 36 years after the U.S. cut diplomatic ties with Taiwan, the Republic of China enjoys strong support in the U.S. Congress and in the popular imaginations of many Americans.