3 Takeaways From China's Military Parade
The military parade on September 3 was President Xi Jinping's coming-out party. What messages did he send?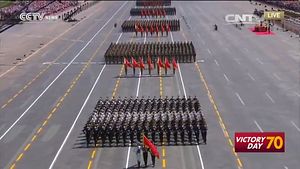 On September 3, 2015, the Chinese Communist Party conducted its first military parade in the past 66 years on the occasion of commemorating victory against the Japanese invaders. Previously, military parades have been conducted on the occasion of the anniversaries (particularly the tenth anniversaries) of the founding of the People's Republic of China.
Three things are noteworthy about the parade. First, there seems to be a contradiction between the verbal language of Xi's speech and the "body language" of the parade. Instead of sending a stern warning to China's neighbors about her determination to defend her "core interests," Xi told the audience that China would follow the path of "peaceful development" and would reduce its troops by 300,000. Throughout the parade, however, the choir kept singing war-time songs about fighting the enemies. The weapons on display from the People's Liberation Army were said to be 84 percent new since 2009.
Second, in spite of rumors about the fierce power struggles between Xi and Jiang, Jiang Zemin appeared on the top of the Tiananmen Gate along with Hu Jintao and other retired senior leaders. Xi made it clear in his speech that he would continue to follow the guide of Jiang's "three represents" along with Marxism-Leninism, Mao Zedong Thought, and Deng Xiaoping Theory as well as Hu Jintao's "scientific outlook on development" in his future work.
Yet there is no guarantee that Jiang's relatives and friends will not be touched in the anti-corruption campaign. Xu Caihou appeared along with Xi in a meeting with retired officers on January 20, 2014 but was announced to be under investigation for corruption on March 15, 2014. Likewise, on February 16, 2015, Guo Boxiong, along with other retired officials and officers, was reportedly visited by Xi Jinping and other current leaders. But on April 9, 2015, he too was under investigation for corruption. Jiang's appearance in public does not make his family and relatives safer from investigation.
Third, Beijing had a blue sky for the parade. Beijing has been notorious for air pollution, with its PM 2.5 at dangerously high levels. Since 2008, there has been at an average of 100 micrograms per cubic meter in Beijing, about six times what the United States' Environmental Protection Agency deems safe. On the worst days, PM 2.5 could reach over 800 micrograms per cubic meter. But on Thursday, the air was good, with PM 2.5 readings at 50. This had been achieved at huge costs. A metropolitan city of almost 25 million people had been practically evacuated, the traffic was stopped, shops closed, and factories in the capital as well as adjacent provinces and cities had been ordered to shut down.
All told, the parade was an impressive display of the strength of Xi Jinping's government, and his control over China. But with the big party over, and serious challenges still ahead, what comes next?