China, Russia Hold Partnership Firm Amid Shaky Economics
Despite the questions surrounding their economic relationship, Putin and Xi put on a show of solidarity in Beijing.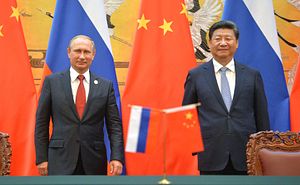 On September 3, Russian Vladimir Putin sat just to the right of Chinese President Xi Jinping during China's military parade to commemorate the 70th anniversary of the end of World War II. It was one more indication of the warmth of China-Russian ties, even amid growing isolation from the West. In May, Xi had a similar position of honor at the Moscow Victory Day parade, while leaders from the other World War II powers (the United States, UK, France, Germany, and Japan) avoided both events.
During a bilateral meeting held after the parade, Xi and Putin stressed their commitment to strengthening the China-Russia relationship even further. Xi and Putin spoke of increased coordination on international and regional issues, with an eye toward safeguarding the post-war world order. Bilaterally, the two leaders focused on finance and investment and the energy sector as areas for continued cooperation.
Russia's Presidential Press and Information Office said that a number of deals had been signed, including agreements on:
cross-border electronic trade; yuan loans for trade finance purposes; investment in priority sectors of the Russian and Chinese economies; natural gas supplies to China via the pipeline in Russia's Far East; cooperation in the development of data processing centers and cloud services in the Asia-Pacific region, and joint oilfield development.
One Russian source told Reuters that, all told, the deals represented a potential $30 billion in investments. Not bad, considering the September summit came less than half a year after Xi's visit to Russia, where China had already agreed to roughly $6 billion in infrastructure deals. But Reuters noted that one big-ticket project, the Altai gas pipeline to connect western Siberian gas fields to China, was hardly mentioned during the meetings, leaving its fate uncertain.
China's reluctance comes even as Putin is courting all potential investors in Russia's underdeveloped Far East region. Immediately upon his return to Russia, Putin attended the first-ever Eastern Economic Forum in Vladivostok. In his speech at the forum, Putin spoke of the "great potential" in Russia's Far East, and said that Russia "aimed at accelerated, fast-track development in this region."
"Today, we see the future of the Far East as a key socioeconomic development center for Russia, and a region that should be effectively integrated into the developing Asia-Pacific region as a whole," Putin continued. To do that, the "main task is to develop the economy and infrastructure," Putin said – both tasks where neighboring China could be of particular assistance.
Indeed, in a recent article for The Diplomat, Alexander Gabuev pointed out that China is really the only country that has shown much interest in making extensive investments in Russia's Far East. Yet economic woes have badly shaken the dream that Beijing can act as a counterweight to U.S. and EU sanctions. "Russian players now have plenty of basis to be skeptical about China's ability to serve as a driver for global growth in the future or a trade partner, which may compensate for shriveling trade with the EU," he writes.
Despite economic woes, however, China and Russia have ample geopolitical and strategic reasons to hold fast to their partnership. Putin's attendance at the September 3 parade was not about economics, but about presenting a united front, particularly to the many Western leaders who chose not to attend. Putin, in particular, spoke out against "attempts to erode the importance of World War II and its events" in both Europe and Asia — part of a larger narrative that places Russia and China as the true defenders of the post-war world order.