Amid Ongoing India-Pakistan Clashes, Is Diplomacy Possible?
After weeks of clashes, a flag meeting this week sought to defuse tensions.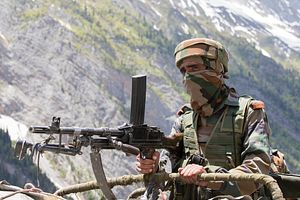 A meeting between senior military officials from India and Pakistan in Poonch on Monday agreed to work to calm tensions along the Line of Control (LoC), including repeated ceasefire violations. Recent weeks have seen some intense exchanges across the LoC, with India claiming 25 ceasefire violations by Pakistan forces in September alone.
The clashes follow a brief period of optimism following an agreement made on the sidelines of July's Shanghai Cooperation Organization summit in Ufa, Russia, in which the Indian and Pakistani national security advisors (NSAs) were scheduled to meet in New Delhi in late August.
However, the talks were subsequently cancelled amid a row over Kashmir, and Pakistan's refusal to accept conditions laid down by Indian External Affairs Minister Sushma Swaraj. In a late-night statement, Pakistan's Ministry of Foreign Affairs said, "The scheduled NSA-level talks cannot be held on the basis of the "preconditions" set by India. For its part, India said that Pakistani NSA Sartaj Aziz would not be able to meet Kashmiri separatist Hurriyat leaders during his visit, and would have to restrict the agenda to the issue of terrorism, as was agreed in Ufa.
Since becoming independent in 1947, India and Pakistan have fought three wars. Two of them have been over Kashmir, which they both claim in full but rule in part.
Speaking with The Diplomat, Pakistani commentator Amit Ranjan looked back on the failed talks. "The NSA talks between India and Pakistan needed an environment to succeed, which they did not have. The reason: Both (India and Pakistan), before the meeting, had started to play the blame game, and had leveled accusations at each other over the cross border firing along the Line of Control (LoC)."
Ranjan added, "Had the National Security Advisors met, what would they have talked about? According to media reports, they would have simply tried to prove their respective allegations against each other over acts of terrorism. Instead, it would be more productive to sketch out some steps and work out how to curb the menace of terrorism, which affects both countries."
Since the cancellation tensions have only worsened, according to Seema Sirohi, a veteran journalist and former foreign editor of Outlook, told The Diplomat. The recent exchanges across the Line of Control the most direct symptom. Civilians are now paying the price for the near complete breakdown of the ceasefire.
"The crux of the issue is the Modi government's change of policy on Pakistan and the Pakistan establishment's refusal to allow a thaw," said Sirohi. "India's new policy, which some have labeled a flip flop, is overall tougher. It demands movement from Pakistan on curbing terrorism. The robust response on the LOC is meant to send a message to Rawalpindi. Nawaz Sharif is but a bystander in this because he controls nothing as far as Pakistan's key relationships go. The Pakistan establishment is feeling emboldened these days because it finds itself in a good place strategically. The Americans are leaving and want a face-saving exit from Afghanistan without too much trouble, and China has come in as patron number two with money and political backing."
There is little doubt that Pakistan continues to send terrorists across the border while claiming to want peace. It is a cost-effective way to keep making trouble for India. Still, as Sirohi explains, "At the same time, the fact that talks are going ahead means both countries want to maintain contact and not allow unintended consequences in a tense situation."
The author is a columnist at the Daily Times. Visit his blog or follow him on Twitter @Akbar_notezai. He can be reached at [email protected].