Cambodia's Montagnard Problem
The country has long struggled to deal humanely with the refugees from Vietnam's Central Highlands.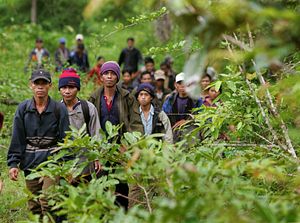 In May, while much of the international media focused on Cambodia's preparation for the arrival of refugees coming to Cambodia from Nauru as part of a controversial $35 million aid deal with Australia, Phnom Penh took efforts to block the arrival of a less welcome group of asylum seekers.
"[A]lmost 1,000 [Cambodian] troops were deployed along the Vietnamese border…Soldiers…said yesterday that the main objective was clear: to catch Montagnards," reported the Phnom Penh Post in early May.
Fleeing Montagnards, a Christian minority tribal group from the Central Highlands of Vietnam whose persecution there is well-documented, have long been an enduring thorn in Cambodia's side. Phnom Penh, a signatory of the 1951 Convention Relating to the Status of Refugees and its 1967 Protocol that mandates Cambodia allow asylum seekers to pursue protection claims, often deports them as illegal economic migrants.
"Nowhere is the discrimination of treatment accorded to refugees more stark than in the comparison of the treatment of the Montagnards versus the red carpet treatment for the refugees from Nauru," said Phil Robertson, deputy director of Human Rights Watch's Asia division, to The Diplomat.
But the Montagnards are not the only ethnic asylum seekers Cambodia has sent packing. In 2009, twenty Uyghurs, a persecuted Muslim minority from northwest China, who had fled to Cambodia were forcibly sent back to the People's Republic. All of the adults were jailed, including four who received life sentences. Three days later Beijing announced $900 million in aid to Cambodia. While the deportation of the Uyghurs was widely and swiftly condemned by the West, the Montagnard expulsions, in comparison, have produced barely a peep.
According to Ou Virak, head of the Future Forum, a Phnom Penh policy institute, it's a matter of geopolitics.
"It reflects that Vietnam is a lot more favored by the West than [by] China. Because of the rise of China, Vietnam is seen as a friend of convenience for the West. Look at the invitation extended to the chief of the Community Party," he said, referring to Obama's landmark reception of Vietnamese Communist Party chief Nguyen Phu Trong in early July, which many analysts said reflected a warming of relations in response to increased tensions in the South China Sea.
Cambodia, which has a significant reliance on foreign aid, has long had to balance appeasing donors' human rights concerns with its domestic realpolitik (though increased aid from China has lessened the urgency to do so). Absent real pressure for Cambodia to uphold the rights of its Montagnard refugees, Virak said, Prime Minister Hun Sen and his government see little reason to do so. In the screaming match of international politics, the voices of the Montagnards amount to barely a whisper.
"Our people have lost all hope because no one cares for us any more," lamented Kok Ksor, president of the U.S.-based Degar Foundation to Al-Jazeera last year. "Even the U.S. government doesn't do anything for us."
"Everyone wants to ignore us because our people are so few and our land so small. Everyone wants to help Vietnam – and we are in the way – because everyone wants to stop China's expansion. No one wants to say that Vietnam does anything bad," he said.
The Montagnards, which means "mountaineers" in French, are long accustomed to being sidelined by larger geopolitical machinations. During the French colonial period in Vietnam, the Montagnards, whose distinct customs, language and religion had long had them at odds with the Vietnamese majority, were promised an area of land to their own. The French defeat at Dien Bien Phu and their withdrawal from the country at the end of the First Indochina War in 1954 quashed that promise. Soon after, the Communist government of South Vietnam initiated a campaign of political and cultural suppression in the Central Highlands.
Exploiting their resentment towards the Vietnamese, U.S. Special Forces covertly trained over 40,000 Montagnards in guerrilla warfare during the Second Indochina War (1955-75), America's Vietnam War. The Yards, as the Special Forces called them, were to act as a first line of defense against Viet Cong militants operating in the Central Highlands. During the doomed war, the tough-skinned Montagnards constituted a major force in the fight against the Vietnamese communists. After the Americans withdrew from their bloody quagmire in 1975, the civil war there raged on. The Montagnards suffered immensely for their alliance with the Americans. According to one historian, by the war's end, around 200,000 Montagnards had been killed, along with 85 percent of their villages destroyed.
Their lot has improved little since. According to a comprehensive report published by HRW in June, Montagnards had been regularly subjected to a litany of abuses by authorities, including arbitrary arrest, abuse while under police custody, regular intimidation, constant surveillance and religious persecution. Protests calling for greater religious freedom and land rights in 2001 and again in 2004 resulted in a fresh wave of repression against the minority. Hanoi put the blame on nefarious agitators from afar while embarking on a campaign of arrests and intimidation in the highlands.
"Every time the police summoned me to the commune police station, they beat me and denied me food. I was placed in a small room with hands tied and an interrogator beat me," confessed one Montagnard asylum seeker to Human Rights Watch in February.
As Montagnards continue to flock to the Kingdom to escape such misery, the Cambodian government is forced to deal with them, however begrudgingly. Yet their track record betrays a patchy policy.
Most refugees are deported as "illegal aliens," with officials typically falling back on bureaucratic balderdash. "They make the allegations [of Vietnamese persecution] but they don't provide documents," said Cambodia's director of the Ministry of Interior's refugee office to RFA in February in one such instance. "They only make the claims."
Some of them are granted asylum. Others are"voluntarily" sent back to Vietnam, after waiting months for asylum and losing hope.
Virak explained the haphazard policy by an apparent lack of domestic concern.
"There's no solid policy on it. The Cambodian government is annoyed by the whole thing but in terms of domestic politics it's a neutral issue so nobody really cares," he said.
The government's treatment of the ethnic hill people mostly depends on the government's relations with Vietnam.
"Cambodia has pursued a blatantly discriminatory policy when it comes to dealing with refugees," said Human Rights Watch's Phil Robertson. "The Montagnards have borne the brunt of it because they are fleeing from a state that is a close ally to the Cambodian government."
Carlyle Thayer, an emeritus professor at the Australian Defence Force Academy, speaking to the Phnom Penh Post, voiced a similar opinion.
"Vietnam will not be pleased if highland ethnic minorities who [seek] asylum in Cambodia are given refugee status . . .This will impact on Vietnam's international standing and also act as stimulus for other ethnic minorities to flee Vietnam," he said.
"Vietnam will make its displeasure known through diplomatic channels but is unlikely to take any further steps because this would draw even more international attention to this issue."
Currently, in Phnom Penh there are over 150 Montagnard asylum seekers awaiting a murky fate. Despite the uncertainty, many will continue to take their chances in Cambodia, whether or not Cambodia is willing to give them a chance.
Brent Crane is an American reporter in Cambodia. Follow him on Twitter @bcamcrane.