China Unveils Its Largest Killer Drone To Date
Beijing's biggest combat UAV has made its maiden flight.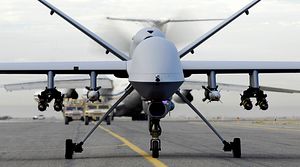 China's heaviest attack and reconnaissance drone to date, the Caihong 5 (CH-5), or Rainbow 5 recently made its maiden flight at an undisclosed airfield in Gansu province, according to China Military Online.
The UAV's maiden flight, conducted in the early morning, lasted only about 20 minutes, although the new UAV can allegedly stay in the air for more than 30 hours.
According to the South China Morning Post, Chinese state television announced that the debut of the Rainbow 5 will "change the game in airstrikes."
The CH-5, developed by the China Aerospace Science and Technology Corporation (CASC), appears to be based on the United States' MQ-9 Reaper drone design and has a wingspan of 20 meters (66 feet) and a takeoff weight of about 3 tons. It can carry a maximum payload of around 900 kilograms – which allegedly is 2.5 times more than previous UAVs of the CASC Rainbow series.
"The aircraft is designed to perform reconnaissance, surveillance, targeting, intelligence gathering, electronic warfare, border patrol, island defense and anti-terrorism missions," China Military Online notes.
Among other things, the CH-5 is equipped with a new wall-penetrating radar capable of identifying targets behind walls and within a building. "Terrorists have their hideouts. They can hide in a bush or in a house. That requires us to go through walls and identify the objects inside," explained the drone's chief designer, Ou Zhongming.
Ou also noted that the CH-5 will be able to perform missions with little to no support from the ground. Earlier Chinese drones had to be guided to their targets by troops on the ground and could not fire "until they receive confirmation from ground personnel on targets hidden within buildings," according to the South China Morning Post.
Lan Wenbo, another designer of the new CH-5 combat UAV, explained a number of additional technical features of the drone:
It can also support and protect other drones with electronic warfare devices, such as suppressing the enemy's radar. It will significantly increase the effectiveness of an attack.
As I reported previously, according to the new annual U.S. Department of Defense report to Congress on China's military and security developments (see: "What the Pentagon Thinks of China's Military"), Beijing is heavily investing into the development of longer-range UAVs.
"China is advancing its development and employment of UAVs. Some estimates indicate China plans to produce upwards of 41,800 land- and sea-based unmanned systems, worth about $10.5 billion, between 2014 and 2023," the Pentagon notes. The report continues:
 In 2013, China unveiled details of four UAVs under development — the Xianglong, Yilong, Sky Saber, and Lijian — the last three of which are designed to carry precision-strike capable weapons. The Lijian, which first flew on November 21, 2013, is China's first stealthy flying wing UAV.
A number of CH-3s, older UAV models of the CASC Rainbow series, were purportedly sold to the Nigerian military for the country's fight against Boko Haram rebels.
Most of China's UAV programs appear to be founded upon reverse-engineering of foreign technologies, with institutions such as CASC likely taking advantage of existing R&D efforts in the United States and other Western states. Overall, Chinese combat UAVs lag behind their Western counterparts in terms of detection capabilities and endurance.