Confirmed: Chinese Navy Entered US Territorial Waters off Alaska
Plus, China as the engine of global growth and Japanese war criminals in post-WWII China. Friday links.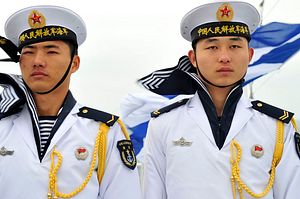 With all of the coverage of China's military parade, here are a few other stories you may have missed this week:
My colleague Ankit Panda noted earlier this week that five People's Liberation Army Navy (PLAN) vessels had been spotted in the Bering Sea, off the Aleutian Islands. "Even if these ships were involved in intelligence-gathering or reconnaissance activities, as long as they remained outside of U.S. territorial waters, there's no real issue," Ankit noted.
Now it seems that the PLAN vessels did enter U.S. territorial waters – the Wall Street Journal cites Pentagon officials as confirming that the ships came with 12 nautical miles of the U.S. coast while passing through the Aleutian Islands. However, the Pentagon did not express any concerns about the maneuver, emphasizing that the PLAN vessels were in compliance with international law. In fact, analysts seemed more inclined to read the move positively, as a signal that China is coming around to accept U.S.-held views that "innocent passage" of military vessels through another country's exclusive economic zone – or even territorial waters – is acceptable under international law.
The Pentagon had a similar reaction to Chinese spying off the coast of Hawaii during 2014's RIMPAC exercise. But as I wrote then, China has developed a fairly complicated reading of maritime law that allows it to transit and surveil U.S. waters while denying similar rights to the U.S. armed forces.
In other news, a study from Oxford Economics, analyzed by the World Economic Forum, predicts which cities will contribute the most to global economic growth by 2030. China accounts for seven of the top ten cities: Shanghai (ranked number 2), Tianjin (3), Beijing (4), Guangzhou (6), Shenzhen (7), Chongqing (9), and Suzhou (10). New York City snagged the top spot; Los Angeles and London ranked fifth and eighth. All told, Oxford Economics expects the seven Chinese cities to contribute around $3.8 trillion to global GDP by 2030. It's another stark reminder of how dependent the world is on China's continued economic health.
My colleague Franz-Stefan Gady pointed out the anti-Japanese rhetoric in President Xi Jinping's speech just before China's military parade in celebration of the 70th anniversary of the end of World war II (you can review the whole speech in English translation courtesy of Xinhua). An in-depth Xinhua article published on September 2 adopted a more nuanced stance.
The article tells the story of 969 Japanese war criminals who were transported from Soviet prisons to China in 1950. Most of them wouldn't be returned home to Japan until 1956, over 10 years after the war ended. During their time in China, Xinhua recounts generous treatment and attempts at rehabilitation (with a healthy dose of Marxist studies) that ended in many of the men confessing and repenting of atrocities against Chinese civilians during the war. "When I made a public confession of everything, the man I was before had gone. I felt sad, but relieved, and tears rolled down my face," one of the men told NHK in a documentary.
Finally, for those of you interested in reliving China's military parade, here's a full video from RT.  As you watch, keep in mind Alec Ash's article for Foreign Policy, which argues that many young Chinese are not particularly convinced by Beijing's attempts to foster nationalism — they're patriotic without being fenqing (angry youth).