Exclusive: Who's Really Behind Thailand's Erawan Shrine Bomb Blast?
The Diplomat's Shawn Crispin conducts an in-depth investigation into the recent Erawan Shrine bombing.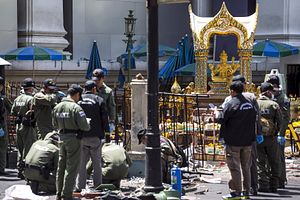 While Thailand's police claim success in apprehending and identifying foreign suspects in the country's deadliest-ever bomb attack, national intelligence agencies are pursuing local actors as the likely masterminds behind the crime. Rather than an act of ideologically-driven international terrorism, as portrayed by security analysts and echoed in media reports, the lethal explosion was more likely an act of local commission, motivated by rising tensions between rival political and security force factions jockeying for position ahead of a high-stakes royal succession.
Foreign envoys, top government advisers, former high-ranking officials, and private investigators who spoke to The Diplomat on condition of anonymity all point toward probable rogue security force involvement in the sophisticated yet locally attuned August 17 blast. The pipe bomb killed 20 and injured over 125 at Bangkok's Erawan religious shrine. Hidden by multiple layers of deniability, official obfuscation, and patchy police work, the local masterminds likely acted in coordination with foreign criminals with prior links to wayward security officials to execute the politically sensitive attack, the same sources said.
The recent arrests of two suspects of unknown nationality and warrants issued for a handful of others is consistent with this narrative. The arrests have raised as many questions as they have answered about a motive. A police spokesman said this week the suspects were linked to a human trafficking "syndicate" and that the bomb may have been a "revenge attack" against a recent crackdown on the trade. Under intense international pressure, since July Thai prosecutors have indicted 72 people, including state officials and a senior military officer, for having links to foreign-linked people smuggling networks active in Thailand.
The circumstances surrounding the arrests, like much of the police's investigative work on the bombing, have strained credulity in light of the sophistication of the actual attack. The first unidentified suspect was captured in a rented room in a Bangkok suburb sitting calmly among piles of incriminating bomb-making materials and a stack of forged passports. The second was apprehended on the Thai-Cambodian border carrying a backpack apparently containing the same distinctive yellow T-shirt that the alleged bomber was seen wearing in CCTV footage at the shrine moments before the fatal blast.
Contributing to speculation of a cover-up, an image of a suicide vest broadcast on local TV reports of the first suspect's arrest on Saturday was later retracted without explanation by police. Authorities threatened to file Computer Crime Act charges, punishable by imprisonment, against social media users who reposted or critically assessed the censored image. The lightning transfer on Tuesday of five immigration police officials based on the Cambodian border (who earlier accepted a bribe to allow the first suspect to enter Thailand without proper travel documents) has bolstered the narrative that the suspect had prior ties to wayward police. It's unclear if police had any legal leverage against the suspects before their arrests.
Initial speculation that Islamic State or al-Qaeda orchestrated the attack has faded as neither terror group has claimed responsibility for the atrocity. Security analysts and media reports have instead linked the bomb to Thailand's deportation in July of over 100 ethnic Uyghur Muslims to China. The theory is that a hybrid criminal-terror group staged the attack in revenge for their Turkic brethren's mistreatment in Thai custody. Unconfirmed reports cited by diplomats indicate an unknown number of Uyghur detainees may have been shot and killed by Thai immigration police while protesting against their planned deportation to China.
There are holes in the theory, however, including high-level diplomatic doubts that Uyghurs could have so quickly hatched and executed such a sophisticated plot so soon after the deportations. China's foreign ministry said days after the blast that Uyghurs were not behind the bomb, despite the deaths of five Chinese nationals and the collateral opportunity a joint investigation would offer for bilateral intelligence-sharing at a time Beijing seeks stronger strategic ties with Bangkok. That indicated to some that senior Thai officials privately told their Chinese counterparts that the bomb was a domestic affair that would be handled internally. Others note that both the Abhisit Vejjajiva and Yingluck Shinawatra governments deported smaller groups of Uyghurs without threat or retribution.
Factional Fault Lines
From a more inward-looking perspective, the blast's timing was significant. The bomb was detonated a day before a contentious military and police reshuffle list was due for submission to the royal palace, and a day after the carefully choreographed "Bike for Mom" event had cast heir apparent Crown Prince Vajiralongkorn in a uniquely favorable light, pedaling comfortably among the Thai masses. Both events were impacted by the blast: the reshuffle list's submission for the monarch's endorsement was inexplicably delayed and altered after the attack, while promotion of the "Bike for Mom" campaign's next planned biking events was overtaken on local news stations by bomb-related segments.
The now-public military and police reshuffle lists will consolidate Prime Minister Prayut Chan-o-cha and Defense Minister Prawit Wongsuwan's power over security forces while further alienating a rival royalist faction. As with recent rotations led by Prayut, a former army commander who seized power in a May 2014 coup, this year's list again gives promotional priority to Queen's Guard over King's Guard soldiers, capped by  Queen's Guard General Thirachai Nakwanich's promotion to army commander. The factional divide, accentuated by what some analysts perceive as competitive visions for the royal succession, has contributed to sporadic counter-coup rumors since Prayut assumed the premiership.
Hours after the bombing, the King's Guard's 1st Cavalry Battalion in Bangkok issued alerts for ten other areas of the capital that were at potential risk, including both tourist and non-tourist areas. The alert indirectly presaged a botched second bomb attack the following day, when an unidentified assailant threw a bomb similar to the one planted at the Erawan shrine toward a crowded boat pier. That bomb detonated harmlessly in the Chao Phraya River. Reports on the elite military unit's warning were inexplicably deleted the next day from local newspapers that had published it in their online editions.
The police, meanwhile, have seen their various underground interests sharply curtailed by Prayut's anti-corruption drive. A junta reform proposal to depoliticize the force through the formation of a new "police ministry" has been strongly resisted by top cops, including outgoing national chief Pol .Gen. Somyot Poompanmoung. The new incoming chief, Pol. Gen. Chaktip Chaijinda, is eligible to serve in the role for five years, long enough to push reforms favored by Prayut and purge the police rank and file of anti-junta elements. Chaktip's promotion bypassed Bangkok Metropolitan chief Sriwara Rangsipramanakul, who some believed was poised for the post after lifting legal pressure on Prayut for the military's lethal crackdown on anti-government street protesters in 2010.
The bomb also impacted the country's succession politics indirectly. Diplomats and analysts view the "Bike for Mom" campaign, replete with slick media placements, ubiquitous signboards, and a sing-song ditty in honor of Queen Sirikit, as the heir apparent camp's blue-clad answer to Princess Sirindhorn's extended 60-year birthday celebrations in April, which saw Thais uniformly don her royal color, purple. "Bike for Mom" astutely played on the rising popularity of biking among the Thai middle class, with a series of Vajiralongkorn-promoting participatory rides planned between August and King Bhumibol Adulyadej's 88th birthday celebrations commence in early December.
Sources close to the palace said Vajiralongkorn left Thailand for Germany days after the bomb blast, raising questions about whether his camp will backpedal on the campaign for security reasons. At the same time, a royal foundation promoting rural uplift projects in the name of Bhumibol and Sirindhorn has sponsored a parallel bike ride from the country's northern to southernmost tips to promote unity, goodwill, and loyalty, according to local language news reports and the royal foundation's website. The yellow and purple-clad cyclists commenced their journey around a week after the bomb blast, the reports said.
Domestic Dimensions
Thai officials have consistently denied the bomb was an act of international terrorism, claims viewed by many as official spin to shield the crucial tourism industry from further fallout. Yet authorities have not presented a credible domestic motivation for the blast.
Tellingly, officials have shied from blaming ethnic Malay Muslim insurgents fighting for autonomy in the country's southernmost region, despite recent indications the main rebel group, BRN-Coordinate, has started to target tourist areas outside of their three home provinces of Pattani, Yala, and Narathiwat. One well-placed source said a senior BRN leader asked him by phone on the night of the blast to tell Prayut that his group was not behind the bomb. Others have noted the bomb's explosive force and ball bearing projectiles are inconsistent with BRN's known bomb-making capabilities and modus operandi of low death toll attacks.
Nor have officials pointed toward self-exiled former premier Thaksin Shinawatra and his affiliated Red Shirt group. Days before the blast, Thaksin told his supporters at a speech made in Finland that they should oppose the military's draft constitution, which he claimed runs against the will of the majority. Some saw the speech as a rally call for Red Shirt activists, dormant since the coup, to launch protest activities against military rule. A government spokesman hinted at Red Shirt involvement in the blast's immediate aftermath, but there have been no subsequent signs the government is pursuing any links to Thaksin or his political camp. (Thaksin, who was in Germany the day after the blast, denied any involvement in an interview with an American researcher.)
That points instead to intra-government divisions. A security adviser with access to Thai intelligence reports says agents outside of the police are pursuing leads that indicate extensive Thai involvement in what appears on the surface to be a foreign-executed attack. Local intelligence cited by the adviser indicates that the plot was planned for over one year, before the Uyghur deportations but likely after the military's May 2014 takeover. The adviser says the apparent Thai actors have concealed their identities in various ingenious ways, including the use of Internet-based communication applications that are knowingly difficult, if not impossible, for local intelligence agencies to track and detect.
He believes the Erawan shrine was targeted with the insider knowledge that opposed groups control different CCTV cameras pointed at varied angles in the city center area. In-depth local knowledge may also explain why the attack was staged on a Monday, the day of the week in which local flower vendors and lottery ticket sellers are barred from peddling their wares outside of the shrine. It's unclear, however, how the blast caused so much human carnage while leaving the religious shrine, a Thai representation of the Hindu god of creation Lord Brahma, nearly unscathed. The adviser concludes that few Thais are skilled enough to stage such an attack and that those involved aim to derail what's now happening in Thailand. He would not speculate if further attacks are expected.
If Thai investigators suspect the bombing was potentially the work of international terrorists, as the arrests of foreign nationals seem to suggest, Prayut's government would necessarily require the help of foreign agencies to reveal transnational elements of the plot. Thai officials have accepted certain international offers of equipment and advice, but firmly resisted on sovereign grounds allowing foreigners to conduct any forensic or other evidence-based investigations. That resistance may be a reflection of the junta's inward-looking philosophy and style. It's just as likely a veiled admission that the country's complex and evolving political conflict has entered a dangerous new unspoken phase.