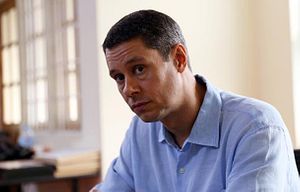 Shawn W. Crispin
Shawn W. Crispin is a Southeast Asia columnist at The Diplomat. He has covered Southeast Asia for more than 16 years variously with the Far Eastern Economic Review, Wall Street Journal and Asia Times Online.
Shawn W. Crispin is Southeast Asia Columnist at The Diplomat based in Bangkok, Thailand, where he has worked as a journalist and editor for over 16 years. He received a Master's Degree in Southeast Asian Studies and International Economics from the Johns Hopkins School of Advanced International Studies (SAIS) in 1999.
Crispin was previously Bangkok Bureau Chief with the Far Eastern Economic Review and Wall Street Journal (Asia), where he reported widely on Southeast Asia's economy, politics and security. Until recently he served as Southeast Asia Editor at Asia Times Online, where he wrote a regular column and developed an extensive network of contributors comprised of many of the world's leading Southeast Asia-focused journalists, academics and analysts.
Crispin frequently makes public and private presentations to government agencies, independent think tanks, investment banks and major equity and hedge funds on Thailand's national level politics. He also previously served as a special political risk consultant to the Control Risks Group, where he provided real time analysis on breaking political and security topics in Thailand.
Crispin currently serves as Senior Southeast Asia Representative to the Committee to Protect Journalists, a New York-based, non-partisan press freedom advocacy group. For the past decade, he has served as spokesperson, advocate and researcher on Southeast Asian press and Internet freedom. Since 2002 Crispin has been on a fourth level police watch list in Thailand for his reporting on perceived as sensitive topics.
Posts by Shawn W. Crispin