Imports of German Cars Stopped at Turkmen Border
BMW, Audi, and Mercedes-Benz have reportedly been added to the list of banned car imports.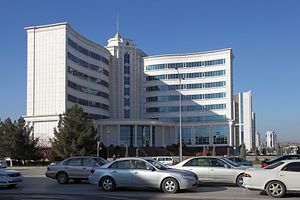 Importing anything into Turkmenistan can be difficult, but especially cars it seems. The Chronicles of Turkmenistan reported Monday that trucks transporting three prominent German car brands were stopped at the Turkmen-Iranian border. Customs officials refused to clear the vehicles for entry, but the report notes that no one could provide details about why.
Last month, Bradley Jardine and Greindl Sibylle took stock of the car business in Central Asia in an article for The Diplomat. Surveying each of the five states, they noted that the car industry presents a great case study to examine the impact of new customs blocs which several of the regional states have joined and how they affect "local markets, governments, and the general population." Turkmenistan, however, "favors both a totalitarian, planned-economy with little room for markets, and a neutral foreign policy, distancing itself from regional integration projects such as the Eurasian Economic Union."
So, while the drop in car imports in Kyrgyzstan can be attributed to tariff hikes related to the country's entry into the EEU and Uzbekistan is coddling a domestic industry, Turkmenistan's hurdles are mostly self-imposed.
As of August 1, the country banned cars with an engine displacement below 1.3 liters. This was on top of a ban for cars with engine displacements over 3.5 liters. The ban on higher end made a degree of sense–cutting out luxury cars in a country where most people couldn't afford them anyway–whereas the ban on the lower end reeked of nepotism. As argued by the Chronicles of Turkmenistan:
The existing ban on importing passenger cars with an engine displacement of over 3500 cc [cubic centimeters] is understandable. As a rule, they fall under the category of "elite" class vehicles which can be owned only by select people in Turkmenistan.

As regards compact cars with small-displacement engines, the only logical explanation provided to our correspondents was the lobbying power used by relatives (the so-called nephews) and people close to the President.

The President's nephews own Kia, Hyundai and Ford car dealerships in Ashgabat. The aforementioned car makers produce their own small-displacement engine cars but with an engine displacement of no less than 1300 cc.
This may be the reason for the ban on the three German brands, though data on market share in Turkmenistan and dealership ownership is not readily available. The cars stopped at the border were reportedly not black (black cars were banned in January 2015) and not used (cars made before 2000 were banned in 2009). President Gurbanguly Berdimuhamedov, a former dentist, has a serious preference for the color white. In 2013, Ashgabat was "recognized by Guinness World Records as having the world's highest density of buildings made from white marble." According to AKIpress, other odd restrictions on cars imported into Turkmenistan include a ban on cars with tinted windows (since 2013) and sports and two-door cars (since 2009).
The Chronicles of Turkmenistan says that "For the time being Lexus and Toyota cars can be imported without any problems."